Observations of a girl from the country of many trees, bilberries and lakes. Why are they so important to us anyway? There are some pictures, and real-life stories to prove why. Playing the lead in these tales – exclusively Finland.
Chapter 1 – Hiking in Lapland
What a long day of hiking! We'd been walking through thick forests and over barren fells for a few hours and been fascinated by still ponds, beautifully flowing streams and enchanting silence that can only be experienced in a remote place like this. Along the way there was a wood full of fallen trees. When I went to see those trees a bit closer, I realized that the ground was all blue – of berries! So, there I was, picking up those nutritious delicacies, concentrating on their beauty one at a time, knowing they would serve me as a snack, dessert and breakfast. There is something so liberating to be able to do all this for free, without time limitations or distractions any kind.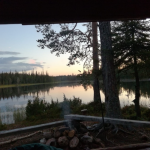 You feel such tranquillity and security when surrounded by strong spruce forests and still waters. Just before falling asleep, one might hear the call of an owl or a fish splashing, that's all.
Chapter 2 – Always changing light
There is only one hour between these two pictures and look how much even short a time affects the scenery. During the darkest time of the year, which is around the last two months, it feels like you are living in a sack. It certainly acts as a nice counterbalance to the summer when the light literally never dies. It gave me such a warm feeling inside to see the sun that day of December – even though it didn't want to stay for long and was distant and cold as ever. Yet what could be better than getting chilled in frosty weather and going inside after, getting wrapped in a fluffy, colossal blanket and enjoying a couple mugs of hot chocolate and tasty rye sandwiches.
Chapter 3 – Finland objectively
What makes Finland special, I wonder…
It must be our close bond with nature and how we utilize it from day to day. There is also certain beauty in our modest appreciation towards our surroundings. Anyone can go outdoors any time they want, and it is free and completely safe to pick up fresh food from the forest.
Finland is a great place for nature lovers because of its four seasons and diverse, clean environment, which enable a great variety of outdoor activities. A big part of Finnish magic is in the contrasts that can be experienced through four seasons – all having their specific features. Seeing the Northern Lights for the first time, oh that's something!
Finnish people and their quietness yet strength of character, are like reflections of Finnish nature. The land is frozen eight months of the year, as are our minds prone to melancholy. Like the trees silently carry the heavy weight of snow, we work hard to maintain our privileged position as one of the most equal, educated and safest countries in the world.
<3 Laura