I was borned in Eastern Finland near the National Park Koli. I have been living  there my first nineteen years of my life and enjoyed it a lot.  After high school it was time to move forward to study some interesting for me, so I moved to West Finland Southern Ostrobothnia.
People are different in different parts of Finland. In East Finland we used to talk lot about our personal life and happenings, but in West Finland it takes time to make friends and get the trust to invite you in someone others homes. People in Eastern Finland are more open and take people as friends really quickly. We like to be open minded and show our personality straight.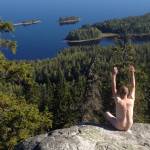 I´m posing naked at Koli and it's okay for me. So I understood very quickly, that no need to go further out to sea to fish, as us Finnish people like to say, to understand difference between our little country and how people feel and think about your talking and acting about your personal life.