When telling people that you are from Finland, many don't even know where Finland is.  If they do the most common stereotypes about our culture and country are snow, Lapland, Darkness, Nature, Northern lights, sauna, quietness, and sometimes our great education. Yes we are part of the Nordic countries and there are similarities, but Finnish culture is unique in its own ways.
For me Finnish culture has many layers and constructs from different aspects.  Some pillars for me would be nature, traditions, peacefulness (unless we win the hockey championships) and personal space.
Nature:
As Finland has so much nature that is free for everyone to explore and enjoy, it has become a vital part of our culture and so called "Finnishness".  There are lakes, forests, sea, fields and so many other scenery all around Finland that everyone can find their own form of nature that they like. And due to Every man's rights (jokamiehenoikeudet) we can all enjoy the nature freely, given that we respect and treat it as a living organism that needs to be looked after. We go to the nature to find peace from the busyness of the cities and to get some exercise. Nature is integrated into our everyday lives, Finland is not called 'the land of thousand lakes' for nothing.
Traditions: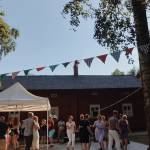 Finns are really traditional and it can be seen in our culture.  Of course culture changes as time passes but ancient traditions can be still seen in our culture even today. Sauna culture is one of these old traditions that doesn't seem like ever going away. Sauna is part of our big holidays like Christmas and Midsummer as well as everyday routines. Other traditions like traditional dances (seen in the picture) are still danced in these events called 'lavatanssit'. One can see that this tradition will go on because there are people from different generations attending the dances.
Peacefullness and Personal space:
Like earlier mentioned, Finns like to go out to nature to get some peacefulness in their life. I think that is one of the reasons we were voted the Happiest country in the world last year. Finns are hard working but we know how to find the balance between free-time and work and we know how to relax. People go to a summer cottage for some peace and relaxation.  With this comes the personal spaces. Finns like their own time and spending time with their selves whether it's at home, at the cottage or in nature. We function best if we find a good balance of own time, socializing, working and free time.  Personal space appreciation can also be seen in buses: If there is a empty space somewhere in the bus, Finn will not sit next to another person but rather choose a seat all by them selves.
These are few points that I think means to be Finnish and tells what Finnishness is. I enjoy and respect our culture and think I will miss some of the aspects while I am doing my exchange. Let's see shall we!
-Niina