The easiest way to experience a culture is to try its food. This methodology applies for Finland, too. You don't have to go to specific local grocery store like how they recommend you to have a "live like a Parisian" experience, in Finland, you just need to go to any supermarket to have an image of what Finn food is like.  Having been here for two years, I have not tried lots of hearty traditional Finnish dishes prepared by the locals, but I can still taste the "Finnishness"  through the seasonal food.
Autumn 
I first came to Finland in Autumn. Some of the first memories of the "finnishness" is the Tampere Fish Fair in Keskustori. At this fair I've got the chance to try fried vendance, crispy fried fish with creamy garlic sauce.  Autumn is also the best season for mushroom picking and root vegetables.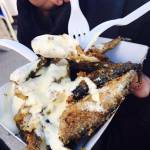 Winter
Winter in Finland is dark and cold. The best thing you can have on a cold winter day is a bowl of salmon soup. Winter coming means that the Christmas is near, and it's time to drink Glögi. Glögi is a spiced mulled wine, served hot with sliced almonds and raisins.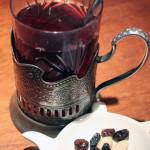 Spring
It's not clear to me when the spring begins in Finland, maybe it starts from late March-early April and lasts shortly till the end of May. But there are two noticeable events in this season, Easter and Vappu. Easter is not only the time for eggs and bunnies but also the time to eat mämmi. Mämmi is a baked dessert made from water, rye flour, powdered malted rye, Seville orange zest and salt. Mämmi is naturally sweet as it is gone through a slow natural sweetening process before being baked. Vappu is celebrated on 1st May. In addition to many interesting activities, it's good to celebrate it with Sima – yeasted alcoholic drink and munkki – Finnish donut. Munkki is also one of my favorite Finn food.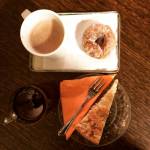 Summer
Summer in Finland is quite unpredictable. It can be cold and wet sometimes, but nothing can stop people from picking berries. You can see small stalls selling fresh strawberry and many types of berry in summer. In late summer, you can collect wild herb and edible flower, too. It sounds cool to make your own rosehip tea, doesn't it?