The first thing that comes to my mind when I think about Finland is the beautiful nature we have. In Finland we have all four seasons summer, autumn, winter and spring. Summers aren't that warm here in Finland. During the summer Finns visit their summer cottages, barbeques and enjoy life. In Finland we have so called "yötön yö" which means that sun doesn't set at all.
Autumn is very beautiful in Finland. Trees turn to red and yellow. It is time to go mushrooming and picking up apples. Autumn is also perfect time to go hikinng.
In Finland we get lots of snow during the winter (at least in the north). Winter is cold and dark. In wintertime we have so called "kaamos" which means that sun doesn't rise at all. It is the opposite to the "yötön yö" that we have in the summer. We have a lot of winter activities such as skiing, ice-hockey, snowboarding and etc. One very Finnish thing to do in the winter is to go swimming into the frozen lake/river. Finns drill hole into the ice and dips in. It is common to go to sauna to warm up afterwards.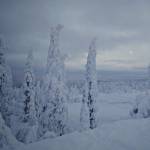 When the spring comes people are very happy, because cold and dark winter is behind us and the summer is coming!