Jack Davies Finnishness blog.
Firstly, and most importantly, being Finnish is the consistent nature of failing in the great sport of football. Prone to letting the nation down but maybe one day that will change. Ok only joking.. but seriously
vvvvvvvvvvvvvvvvvvvvvvvvvvvvvvvvvvvvvvvvvvvvvvvvvvvvvvvvvvvvvvvvvvvvvvvvvvvvvvv
In a completely, wild move from me I moved to Tampere, Finland with a city of around 250,000 people in 2018. Coming from London, a city of around 10 million people, and working on London Underground where more people travel through my station I worked every day compared to the city of Tampere, this was a complete shot in the dark and outrageous move to come to a 'small and unknown' country. No disrespect to Finland, a country who are stuck between Russia and Sweden, assumed to be Scandinavian, never even met a Finn in 25 years. But I was so wrong. And not just me, everybody I said im moving to Finland, people just thought it was where Lapland and Father Christmas was.
From being a proper Londoner I have somehow come to fall in love with Finland, the people, the nature, the culture, everything about Finland has given me a wider perspective on everything and what is important.
A first weekend I was given an introduction to the wild mokki, or cottage. Of course, there are two types, a party mokki or a nice chill relaxed one. Naturally for me this was a proper introduction to the open Finnish mokki. A beautiful setting on a snowed over lake in the middle of January 2018, the perfect winter setting. Jacuzzi, two saunas, lots of wood and 25 Finnish people. An introduction to the actual Finnish culture instead of the sober stereotype that they give themselves.
A group of 30 people, around 28 Finns and Englishman and a Frenchman. A recipe for disaster. The Frenchman drinking wine, casually. The Englishman guzzling beer like its going out of fashion and the Finns. Drinking booze like there's just been a drought. Nobody hardly said a word to the two of us at first, the shyness of not wanting to speak English, soon changed and everybody couldn't stop. The true side of Finns wanting to express their excitement of someone coming to a country they're so proud of and so they should be.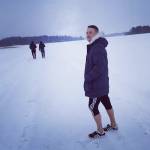 First time in the middle of a frozen lake.
The first experience of a sauna was interesting, the feeling of wearing shorts in a sauna now seems so wrong. Being the odd one out first time to being one of the first in the sauna. The beauty of the sauna, the conversations it beings, the jallu, the jokes, laughs and sometimes tears depending on the people, running out into the fresh ice air, jumping into a summer lake, or a frozen lake. The feeling after is unmatched.
The people, despite being so closed, are still so open. It only takes a few jokes or words to break the ice and that's it. The skiing slopes of Levi, Yllas and others with the views in the winter are outstanding. From looking out for reindeers to eating them, the taste when cooked is fabulous. The Finnish food, war food some would say is delicious. Sausage sauce and mash potatoes with rye bread is a must.
The beauty of the Finnish curse words, it just rolls off the tongue in such a great way, so laughable. The hockey culture and the growing football culture. I will never forget going to my first hockey match around Christmas. The direct translation of an angry Hockey fan from Finnish to English. 'come on referee that was a dirty hit, hit him back, hit him back, cut him up like a Christmas ham'. The use of words was brilliant.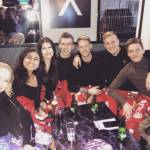 But finally, the student culture. Vappu, the overalls, different colours for different classes, patches for going to parties and the aim for some is to get as many as possible while completing their studies… and of course student events. So far I have not seen much quite like it. And I love it.
Finland is home, its free, happy, beautiful and that is why I never went back to London, and this is my home. A thank you to everybody who makes and made me feel so welcome.