My first experience with the Finnish culture was in 2011 when I did one year exchange in Finland, during high school. After some years back in Brazil, I decided to go back to Finland to do my bachelor's degree. And the reason for that was my love for Finland.
For me, Finnishness means nature and quality of life. I love being around nature and in Finland you can get it anywhere you want, it doesn't matter if you live in the city. I like to walk around the trees, hiking or having a picnic with my friends.
Another thing I like in the Finnish nature is the white winter. I love snow. I saw it for the first time in Finland and only there in the proper way, the real beautiful snow. I love how the city gets brighter (since there isn't a proper sun) and I love to play with the snow, I feel just like a kid.
Of course I couldn't forget one of the most Finnishness thing, sauna. Finnish sauna is the best one. And even better than being in the sauna, is how you feel after it. Going to sauna and bathing in a lake, specially if it is a frozen one, it's an experience everyone should have in their lives.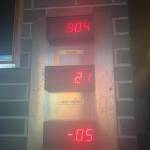 To conclude, I would like to say that Finland is one of the best places in the world. I've never felt as safe in a country as I have in Finland. I love how everything works, how it has the best education, and how Finns enjoy their nature.