Having been living in Finland for my whole life, I've always thought of it as the optimal place to live in. Huge green forests, thousands of lakes that are just made more beautiful by the chilling winters. If you're lucky enough, you might even catch a glimpse of the northern lights.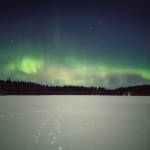 A view from a lake near Pälkäne we saw while hiking
The Finnish people have a mentality of keeping everything to themselves, not talking to strangers, but at the same time, they usually have a very tight group of a few people, with whom they share everything. Seeming a bit cold to strangers and being warm with your own friends is very common. But at the same time, if you ask a Finn for help in anything, you can be sure we'll help you in every way we can.
Part of Finnishness is being proud of what we have. Not in a way of showing off your flashy Ferraris or wearing a lot of bling, but more with the simple things. Simple things like the nature, our work, and what we've made ourselves, with our own hands. A big thing that combines these 3 things, is building your own house, in a forest a few kilometres away from a city centre, a life goal of myself as well. Also having a cottage, or a mökki, further away of anything is a big thing to be proud of, and to enjoy in your own peace and quiet.
The sauna culture is also a very important part of Finnishness to me. Just being naked alone in the sauna with a can of beer, is a great way to wind down from all the stress of the workday. With friends, the sauna is a place to talk about whatever comes to your mind, there's something in the sauna that makes people more honest, and that deepens friendships. There's also a bunch of public saunas, usually in the swimming halls, the gyms, or near lakes, for ice hole swimming in the winter. In addition to the sauna being a place to relax or deepen friendships, it is also very beneficial for your body, due to the heat shock. It is no fluke, that there's an estimated 2 million saunas in Finland, with a bit over 5 million people.