When I started thinking what Finnishness means to me, these four words popped into my head; nature, modesty, equality and security.
Nature is something that I have learned to appreciate ever since I was little. I think it is one of the most important things to me when thinking about Finnishness. Although Finland might not have the most exotic landscapes with mountain ranges and big waterfalls, our nature is beautiful because of its simplicity and because we get to experience all four seasons. We get to have snow in the winter and in the summer, we can just sit at our summer cottages dock and watch the sun set behind a calm lake. We have a lot of forests and lakes so even if you live in the city, you never have to go too far to be able to take a walk surrounded by a quiet environment.
By modesty I mean that I see us Finns as people who are not generally that out there with bragging if one succeeds in something. At least in our everyday lives. We usually do not want to make a fuss about ourselves. Too much modesty can sometimes also be a bad thing, but generally I think it helps us stay the right amount of humble and realistic.
In our society equality is relatively high. It is so important that we are a welfare state where health care and education are provided for everyone. This narrows the gap between social classes. We strive to better the positions for minority groups and the equality between man and woman is mostly good.
Finland is one of the safest countries in the world.  In general, our crime rates are relatively low when comparing to many other countries. Of course, you should always be careful especially in bigger cities since there might be bag snatching for example but risks for facing a bigger crime is low.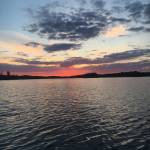 Appreciating our home country is important. Traveling and seeing the world is something a lot of us want to do but coming back to Finland is always one of the best feelings there is.