As a Finn myself I have always somewhat resented the Finnish person stereotypes. Shy, reserved, quiet and cold (unless there is Koskenkorva). This is partly due to not being able to relate to them, but mainly because they all seem quite negative. They mak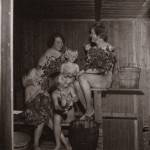 e us Finns seem like boring, unadventurous people, which most know; we are actually far from. I mean come on! We sit in a 100 degree room butt-naked, beating each other with twigs, just to minutes later jump into a freezing pile of snow. And this is just a basic Sunday.
A few years ago after backpacking on the other side of the world, I found a new perspective to look at all these stereotypes. I soon came to realize that all of those adjectives also have a brighter side. Maybe we are not shy – just observant. Maybe not reserved and quiet – just independent and respectful of peace and boundaries. We are not really cold – but appreciate honesty and authenticity, which we would like to identify before warming up. Koskenkorva is a nice way to start the party, but not a necessity for us to have a laugh. In fact, Finnish humor is one of a kind, and our close relationships warm and jolly.
In Finland we value our nature and family, our cultural roots and individuality, our education and health, our achievements and overcomings, and peacefulness and safety. The four seasons, sauna, our hockey team, summer cottages, salted licorice, lakes and forests are just some of the most beloved Finnish gems. All in all, Finland is a beautiful country with a great story, and us Finns are more than the age-old clichés. As with all other nationalities, stereotypes are often over-simplified generalizations that can be cracked beyond the surface.