When I think about Finnishness, I think about people who are at first reserved and quiet, but when you get to knew them better, they are social, warm, trustworthy and the most honest people you'll ever meet.  I also think that Santa Claus, snow and the northern lights are things that Finland is famous for.
As a Finn I love nature, silence and sauna. Especially in the summer when you can run straight from the Sauna in to a lake or the sea. It is the best thing about the Finnish summer. I also love Ice swimming during the winter time.  I love the Finnish nature and I believe we have a lot to see in Finland. During the summer time the archipelago is enchanting and in the Wintertime Lapland is a winter wonderland with snow and the northern lights. The thousand lakes, forests and national parks are worth to visit, there you can get closer to a Finnish mindset.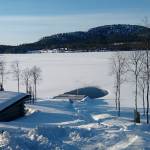 Finns appreciate personal space and private time, so if your Finnish friend needs some time of their own after a long weekend trip, give it to them. We are not angry, we just love spend time alone sometimes,e specially after social events.
Finland is a very safe country. As a woman I can walk alone in the city at night time, it's very usual in Finland. My Spanish friends were borderline angry with me when I left club and walked home alone. It also didn't help that I tried to explain them that I do this every time in Finland. Small children may also walk alone to the School and back, and it's completely normal in Finland.
I can proudly say that in Finland we have safe environment, quality education, high equality and we can trust our government and police departments.