In Finland we have a saying "It`s like winning in lottery to be born in Finland".  I agree.  Last year Finland was voted to be the happiest country in the world. My country is one of the most equal countries. Last month we got a government with 11 women ministers and the youngest prime minister in the world. Sanna Marin is 34 and yes: she`s a woman! This is a good country to be a young woman. This is a good country for anyone!
For me Finnishness means beautiful nature, clean air, space, honesty and equal possibilities. Snow is so beautiful.
On the other hand it`s easy to be proud of Finland when you write but try to find a proud Finn who is proud and says it out loud. I hope Finns would learn to be less shy. When we wait the bus we never stand close to each other. We love our own space.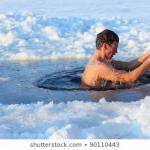 Dipping in the ice cold water is one of the best things a man can do. This is easy in Finland where we have more than 100 000 lakes.