When I think of Finland and what Finnishness means to me the first things that come to my mind are  nature and polite people .
Finland's nature is one of a kind. Finland is known for its lakes, clean water, clean air and beautiful landscape. What makes Finland's nature even more beautiful is the 4 seasons. During every season the nature changes and new colors come.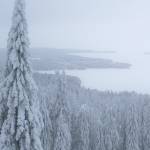 Finns are also very polite and have good manners, they don't yell their orders in cafeterias or push to be the first one to get into the bus. They line up and wait for their turn. Finns are also very trustworthy people, if they promise something you can count on it.