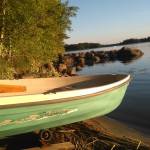 What are we like here in Finland? I guess the first things that come to mind are that we are a bit anti-social at times, we like our personal space, nature, our summer cottages and saunas. We are a very punctual nation and if we promise to do something, it most certainly will get done. We complain about the never-ending bureaucracy in our systems, but also expect everything to go by the book. I suppose these are all somewhat stereotypical ideas, but they do have quite a bit of truth behind them as well. Although, there are big regional differences as well – we are not the same in the south and up in the north.
As the world changes, it will also probably affect us as a people as well. We are more and more influenced by other cultures through the internet, tv, social media, work and studies, and that's bound to change our behavior in some ways. We travel abroad and get familiar with new ways of doing things and people traveling here or moving to Finland will bring some of their traditions and behavior patterns with them. We can already see young people become more open and social, getting a bit unfamiliar with nature and for example having favorite foods like sushi or pizza.
I do hope, that this new global world will make us more open to new possibilities in our behavior. But I also believe, that it is important for a nation to hold on to some of their own wacky, stereotypical ways of living – after all, that's what makes us Finnish.