Nature
Nature is rooted in every Finn. I love just how easy it is to go out to the nature and take a breath of fresh air. How you can escape the stress of everyday life to peace and quiet. How the forests and lakes shape the landscape and change with every season.  I do think, that many Finns take their surroundings for granted. Still, one of the first things a Finn brags about their home country for any foreigners is definitely the beautiful nature.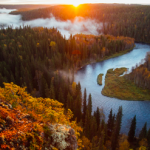 Sauna
Finns truly love to take a steam, which explains why there are over 3 million saunas in Finland. In the summer, we tent to go to sauna in our summer cottages and take a plunge in cold water afterwards. In the winter we go to sauna to warm ourselves after being outside in the cold. Some do warm their saunas every single day, some not so often. Sauna is a place for relaxation.
Language
Finnish is often described as one of the hardest languages to learn. The fact, that there is no other nation, that speak Finnish as their mother tongue makes Finland pretty special. Whenever abroad, hearing Finnish will make you feel instantly confused, amused and weirdly safe all at the same time. Teaching basic Finnish words to your foreign friends makes you feel very proud of this special language.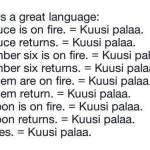 Safety
Finland is one of the safest places in the world. Finns feel safe to walk alone outside or using public transport despite the hour. You can be pretty sure, that if you walk with your bag open, no one will try to steal your wallet or belongings and you can safely leave your laptop on the table in a cafe and leave to get a refill. Finns generally trust each other and know that the police is a municipality that can be trusted if something happens.