When I think about Finnishness the first thing that comes to my mind is the peacefulness. In our culture peacefulness is appreciated in many situtations. For example we don't care about too crowded places or too loud people. We appreciate quietness and calmness. I think that's the reason why we love summer cottages so much. There we can enjoy the beautiful nature in all peace.
In Finland I love our four seasons. The beginning of every season feels like a new start and I think there is something magical with the midnight sun and with the darkness in the winter time. It is just amazing how much the nature changes through the year and that is something I think I will miss during my exchange in Austria.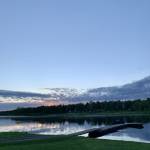 To me Finnish people are humble and honest. I think the honesty is one of our best characters. It is important for us that you can count on people around you. Humbleness has it's upsides and downsides. I think sometimes it would benefit us to learn to appreciate our own work and knowledge.
I think one of the best known thing from our culture is the shyness and quietness of the Finnish people. Partly I agree with this stereotype. Still I think that although some of us might be quiet, we are still very polite. I enjoy talking with people and being social, but still from time to time I appreciate the chance just to be quiet.
I think the best way to get familiar with the Finnish culture is to read the comics called "Finnish Nightmares". The artist Karoliina Korhonen has been able to summarise the Finnish culture pretty well!