Finland is an exciting place to travel – our nature is so versatile!
Four seasons
In Finland the most important thing for me is that we have four seasons. The variety of weather is really awesome – I love summer, winter, fall and spring! I love snowboarding and sunbathing and everything in between.
Society's support
The most amazing thing in Finland is the support we get from our society. We all forget to appreciate that studying is free of charge and our study aid is really good comparing to any other country.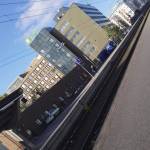 Opportunities
Our technology is really advanced and we have many work opportunities here in Finland. It doesn't matter where are you from and what are your parents doing – you can still do anything you want. And also – we all have the possibility to go abroad and discover the world!