Lauri Veijalainen, the CEO of Stockmann Group, visited the Faculty of Management at the University of Tampere as a guest lecturer on the Leadership for Change (LFC) lecture series on 23 November 2017. The lectures are organized and facilitated by the LFC master's students. Here, you can read a report of the event written by Team Veijalainen.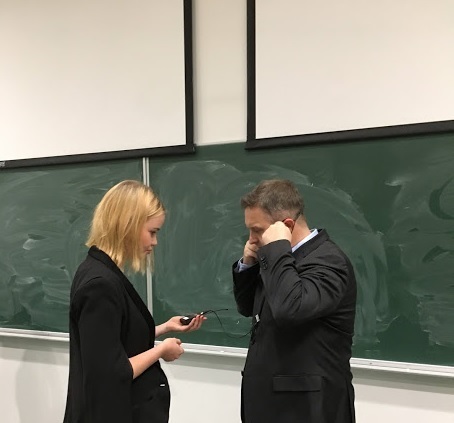 At his visit to the Faculty of Management, Lauri Veijalainen spoke to a full room about what it has been like to lead a widely known company through difficult times and how his early ties to Russia have affected his career.
Before joining Stockmann, Veijalainen worked for 15 years in Russia at Skanska and IKEA. Professor Veli-Pekka Tynkkynen (University of Helsinki), an expert in the field of Russian studies and childhood friend of Veijalainen, commented on the lecture.
"Tell good news immediately and bad news even faster"
The Stockmann Group is a listed Finnish retail corporation with three business divisions: Stockmann Retail, Lindex and Real Estate. The Helsinki flagship store is the largest department store in the Nordics.
Stockmann, founded in 1862, has gone through rough times and stayed in the headlines while going through significant strategic changes. These developments, beginning in the year 2014 and still going on, have roots in the increasing challenges of the online market and the different customer groups. Veijalainen has been a part of the Stockmann group since 2010 and became its CEO in early 2016.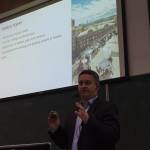 Recently Stockmann gained a great deal of publicity by selling its food business to S-Group. Lauri Veijalainen comments:
All this has been very emotional, probably the most emotional transaction I have ever been in. Because every single person in Finland knows Stockmann, every second person has an opinion about it, and every third person knows better than me how to run the business. And that is a big advantage for us because creating emotions in retail is absolutely the key.
People are the most important resource for Stockmann and any reaction is seen as good publicity, as it shows that people care about the company. Customer behaviour is monitored closely because to keep up with the fast-changing world, reaction time is utmost essential. Nothing lasts forever, and that is why business needs to keep moving forward and evolving.
Veijalainen spoke honestly about the challenges and sacrifices the company and he have had to make to adapt to the evolving environment. His top priority has always been people: customers and employees come first. As CEO he tries to create a feeling of togetherness and an open, transparent working culture together with Stockmann employees to lead the change.
In Stockmann, the managers must understand where the numbers come from but also be available in-store, in the field, for both the employees and the customers. Veijalainen argued that he has put a lot of effort into developing internal communications and finding the right people for the right spots. One of his maxims is to tell good news immediately and bad news even faster. Withholding information doesn't make a leader more powerful. Veijalainen said that he believes in motivation through open communication:
Thank you is small but sometimes very important effort and recognition on a job well done. It's used so infrequently in companies it could be used a lot better.
In Stockmann, he asks people to challenge decisions to improve and find defaults early; a culture that is adopted from his former employer IKEA. At the lecture, Veijalainen said that he seeks to live by his own principles. Therefore, he also responds, personally, to each and every customer feedback sent to him.
Similarly, in stores, every Stockmann customer shall be provided a special experience. Restaurants and cafés attract people. One particular example are the roof top terraces in the Helsinki and Tallinn stores. They have become 'must-see places' and places for social media moments, especially for tourists. While a Finnish customer spends 30 euros on average, a Chinese tourist buys ten times more. Hence, Stockmann is one of the first shops accepting Alipay, the most common virtual banking among Chinese.
There is an inspector for everything in Russia
When the first Stockmann store opened in Russia in 1993, even Vladimir Putin, as then Head of International Relations and Anatoli Sobchak, Mayor of St. Petersburg didn't want to miss the event.
This is how Russia has changed through the last 25 years. Although Stockmann is not doing direct business in Russia anymore, Veijalainen saw all the cultural changes first hand. He grew up as son of Finnish embassy staff in the former Soviet Union and came back after the Iron Curtain fell to work as CFO of IKEA Russia and Administrative and Finance Director of Skanska Russia.
On account of this, he is aware of the many differences in Russian and Finnish company and social cultures. And he emphasizes the importance of knowing the local culture.
He told the audience about an encounter with a Russian ecological inspector during his time at Skanska, which made clear what he means by this:
He said that I'm going to give you a fine and I said, 'Ok, for what?' And he said, 'Yeah, because your snow is dirty.' It was March-April in Moscow. There is just pollution and snow melts, you know it's dirty. I think the fee was ten euros or four to five-hundred rubles but it was the principle. We argued 10-15 minutes and then I took my last card out and said, 'I'm really sorry but it is not my fault', and he had the best answer: 'It's not my fault either'.
Veijalainen paid the fine and got a receipt. This story is a good example of the differences in legislation and norms between cultures. In Russia, form is often more important than content. By knowing this, major trouble can be avoided. Another option to avoid obstacles in Russia is to build up networks and identify the goalkeepers. Veli-Pekka Tynkkynen commented that this behaviour has roots in Soviet times, when knowing people was essential to facilitate life.
Tynkkynen later challenged his childhood friend by asking about the government interference in business. Veijalainen's answer might be surprising; there is almost no interferences as retail is not as important to the Russian economy as for example the energy sector.
Following the rules is the most important to not fall from grace by Russian authorities. Of course, one has to take into account that Russia is a culturally diverse country. Each city and region is unique. Moscow, is in Veijalainen's sight, the fast-moving capital to make money, St. Petersburg is much calmer and a place of culture, while Kazan and its region is an Islamic part of Russia. All these factors and different identities have to be taken into consideration when making successful business in Russia.
Experiencing these differences, challenges and fast developments, Lauri Veijalainen has had a great school for now leading the change at the Stockmann Group.
We want to thank Lauri Veijalainen for sharing his expertise with the audience, and also thank Veli-Pekka Tynkkynen for commenting and challenging the lecturer.
Team Veijalainen: Gabriel Esber, Iida Jokinen, Aline Mayr, Eve Vuorela and Zheng Zhao