The Leadership for Change Programme (LFC) in the Faculty of Management, University of Tampere invites applications from motivated and talented students from all over the world.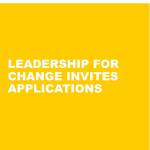 The LFC master's degree programme has been designed so that students are able to develop the kind of knowledge and expertise that is needed to explain and understand complex phenomena, become visionary leaders, and to change the world. (See the curriculum here).
In the LFC programme, leadership is understood as a capability to deal with change. Such capabilities are important as responding to the challenges of our time requires joint efforts of the government, private companies, non-governmental organizations, and civil society actors.
Our master's programme brings together the perspectives of business and management from the private sector, the understanding about institutions and governance from the public administration as well as the knowledge of international relations and political processes from the area of politics.
Studying in the Faculty of Management is student-centered rather than teacher-centered. This means that in addition to attending lectures, our student actively take part in the learning process: They write essays, memos and blog posts, prepare group work assignments, do presentations, take part in conferences, organize public events, and so on. You can read about the experiences of students studying in the programme here:  "Meet LFC people".
The Faculty of Management at the University of Tampere provides a unique setting for studying such multifaceted leadership dynamics. The Faculty offers high-quality academic research and teaching in the fields of business, public administration and politics – and this programme focuses on the intersection of these fields.
The application period for studies starting in late August 2018 has opened on Friday 1 December 2017 and will close on Wednesday 17 January 2018.
The application instructions can be found on the University of Tampere Admissions website.
Students coming from outside the European Union or the European Economic Area are usually subject to paying tuition fees. However, a substantial number of scholarships are available for the most talented fee-paying students.
As of January 2019, students studying at the University of Tampere will have a widening range of study opportunities because the University of Tampere will merge with two other higher education institutions in the same city, Tampere University of Technology and Tampere University of Applied Sciences.