This year, the LFC master's students again organize the LFC lecture series, which discusses topical societal change issues. This year, the series got the name "Mindset changers". The first lecture in the three-part lecture series is given by Sonja Finér, Executive Director of Finnwatch.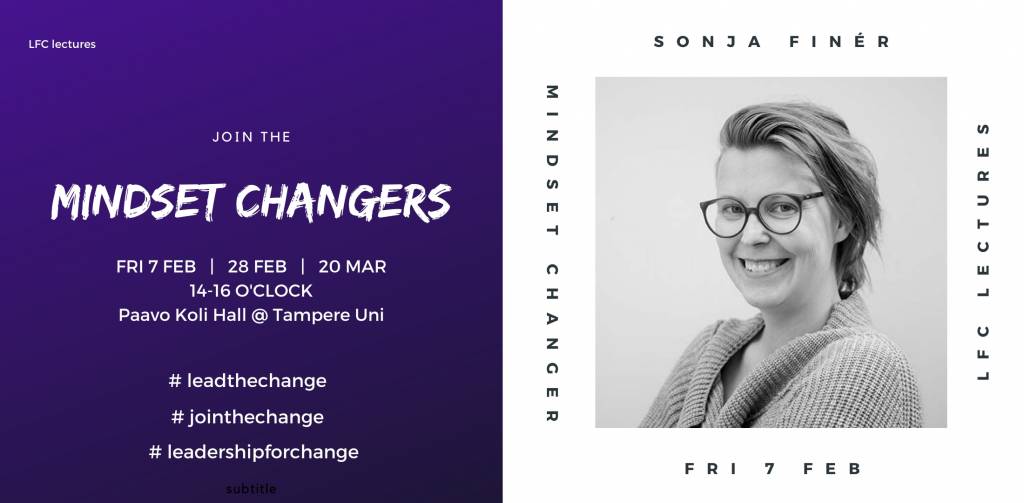 Sonja Finér overseas administrative and communication's work and is responsible for labour rights research and advocacy. Before her position in Finnwatch, Finér has worked for Amnesty International Finland and for Fairtrade Finland. She has also acted as researcher/consultant in Kepa ry, which until 2018 was a Finnish development cooperation organisation and that today works under the name of Fingo. Finér has studied Environmental Planning, Sustainable Development, Biology and Literature.
Her experiences and background in NGOs and sustainable development make her a strong player in today's global issues, inequality and (climate) change. Her lecture will take us through issues such as energy transformation in developing countries and socially just climate tax policies, as well as citizen-activism in leading of change.
The LFC Lectures bring together skillful leaders with experience in dealing with change. The lectures explore what kind of knowledge and expertise is needed to explain and understand complex phenomena, become a visionary leader, and to change the world. The lectures are open to the public.
The link to the FB event: https://www.facebook.com/events/571251156792176/.
The event is hosted by students in LFC Master's programme.