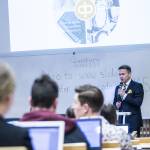 On the last Leadership for Change (LFC) Lecture of the academic year 2018–2019, we had the honor to host Timo Ritakallio as our guest. Timo Ritakallio, President and Group Executive Chairman at OP Financial Group, has been working in the banking industry for the last 20 years, and he is an expert of his field. The banking sphere is something that affects people's everyday lives, which emphasizes its social relevance. The field has been facing changes in its operational environment, and thus it is important that the companies are agile and leaders keep learning actively. In this blog post, we have gathered some of the key takeaways of Mr. Ritakallio's LFC Lecture.
The lecture started by the team's welcoming words followed by the presentation by Mr. Ritakallio. After the presentation, discussant Kalle Pajunen, Professor of Management and Organizations from Tampere University, gave comments, and at the end of the event we reserved some time for the team's questions as well as for questions from the audience.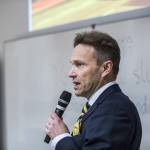 Timo Ritakallio has an impressive career and he can serve as an example to many. He is not only the President and Group Executive Chairman at OP Financial Group at the moment, but he has also completed a great range of degrees: Master's degree in law (LL.M.) in the University of Turku in 1985, Master of Business Administration (MBA) in Helsinki University of Technology in 2001 and AMP (Advanced Management Program) in Harvard Business School, Boston, USA in 2006. He also graduated from Aalto University with a degree of Doctor of Science (Technology) in 2016. As for his career, before OP, he worked at Ilmarinen Mutual Pension Insurance Company as President and Chief Executive Officer since 2015 and as Deputy Chief Executive Officer and Chief Investment Officer between 2008-2015. He is also the President of the Finnish Olympic Committee. Mr. Ritakallio has a vast experience in leadership because of his various top management positions. He is one of the top speakers of his expertise area on stage.
The title of Mr. Ritakallio's LFC Lecture was "Strategic leadership – the case of OP Group". Briefly introduced, OP Financial Group is a Finnish cooperative financial group established in 1902. OP Financial Group consists of 156 independent cooperative banks and their business is divided into three segments: banking, non-life insurance and wealth management. OP Financial Services Group has 12 000 employees and 1 900 000 owner-customer, which makes it a large corporation.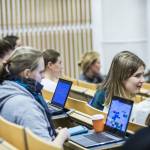 There are four different key drivers of change that drive OP to reinvent themselves. They are regulation and supervision, change in customer behavior, change in the competitive environment, and technology. At the moment, 95% of OP's customer interactions take place in digital channels. Additionally, it is estimated that customer experience will surpass price and product as the key brand differentiator by 2020 and 25% of customers will go to a competitor after only one bad experience. As there is an increasingly global offering, customers can really choose where they buy services.
Mr. Ritakallio gave us a great example of the current dynamics in business. Business is a never-ending game. If you think about different sports, for example, football, it's easy to create a strategy for a single football game, because when you are planning the strategy, you know that the game lasts 90 minutes, you know that there are two cops and you know who you are playing with, you know the rules of the game – but it is not the same with business. OP has existed already for 116 years and they want to continue at least for the next hundred years coming. It is impossible to say what happens in the next year or the year after, because you don't know what kind of rules there are in this business then. That is why it is really important to understand that you need to have more flexible and continuous processes to make a successful strategy. Creating an inflexible vision or plan does not work any longer – it is all about the ability to continuously make and implement new strategic choices, every single day. However, reshaping strategy does not need to mean changing everything, and it should not be like that. Continuity is very important and even though some changes may be very radical, not all will change. The strengths of the business should not be broken, but carefully harvested. The strategy should be shaped so that at the end of the day it's remarkable while still keeping the process going on.
OP wants to be the most attractive financial services group from a point of view of employees, from a point of view of customers as well as from a point of view of potential partners. It's more and more important that you are attractive also from the partners' point of view, because, for example, when OP is looking for a partner in the financial industry, the possible partners will call OP first and then OP can select who would be the best partner for them.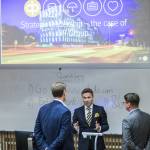 Timo Ritakallio also highlighted that experiment is the key part of strategic thinking as he believes everything cannot be concluded from gathered data. For successful strategic planning, we have to experiment to know how customers react. It helps to avoid risk of failure by guiding to focus on strategically important themes rather than on instant commercial success. To interpret the experiment successfully, Mr. Ritakallio advices to think also about the very next step after the experiments. Then he talked about reshaping the strategy and organization. According to him, while it is important that the change and target will be big, everything will not change. He suggested a change by shaping key things and keeping in mind the goal of continuous learnings. He referred to hear from different interest groups that develop management understanding as he believes hearing is a way to manage emotions of personnel and interest groups. Mr. Ritakallio stated that continuous strategy is based on information, and continuous strategy process requires that the leaders learn new things.
It is important that a strategy of the digital age adjusts to constant changes and has the ability to react to changes in a flexible way. Mr. Ritakallio said that OP employees are encouraged to strategic thinking, as openness and involvement make the quality of the strategy better and improved. According to Mr. Ritakallio, strategic leadership is based on an ability to adjust to a changing environment, which requires a readiness to change also from the organization. Timo Ritakallio noted this is an agile way of working. He stated that OP Group is in the middle of a transformation towards a more autonomous and agile way of working, and here three most important things were pointed out: "Learn, respond, adapt".
In an agile organization, leadership will be more about enabling success and removing obstacles. Moreover, a leader needs coaching and needs to have a service attitude, which facilitates work motivation and people's ability to self-management. Mr. Ritakallio said that it is important to have excellent employees to create better customer experience. He stated that the most important principles that he follows in OP are to cooperate, inspire, give feedback, communicate, encourage, share responsibility and trust people. When managing organizational changes, the leader's role in the organization consists of showing the way, making success possible and putting focus on continuous learning to ensure results.
While responding to the questions from the audience, Mr. Ritakallio mentioned OP's social contribution, which he considers to be the most important tool for the company's development. OP organized digital learning sessions for older citizens and offered more than one thousand summer jobs for students. Mr. Ritakallio concluded his lecture by providing some essential tips for students. He highlighted that one must continue learning new things, which he also considered to be the key of his successful career.
In his comments, Kalle Pajunen noted that the points Mr. Ritakallio brought up are things that are discussed also in current academic research. Kalle Pajunen agreed that agility, one of the core points of Mr. Ritakallio's presentation, is necessary because of the ongoing challenges in the business environment. Agile strategy and agile ways of working are often necessary conditions for the firms' success, especially when the conditions are changing and the future is unknown.
Mr. Ritakallio gave us an excellent speech, and we were privileged to have him as our LFC Lectures guest speaker. The presentation really gave us good thoughts for the future. Overall, Osuuspankki is a key player in the financial sector in Finland, being the market leader in its field. Every Finn knows the company and a great number of them are OP's customers using their services every single day. Money and banking services are something that affect everyone's life, and this makes the industry socially relevant.
Find the LFC Lecture on Radio Moreeni's SoundCloud account!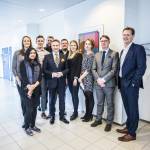 The lecture was organised by first-year LFC students Eliisa Nissi, Fatema Tuz Zohra Aney, Juuso Kääriäinen, Esa-Matti Kyllönen, Sami Kallio, Paula Perälä, Elina Siivari and Oskar Nurmio.
Photos by Jonne Renvall/Tampere University.