We met with Aline Mayr, a first-year student in the Master's Degree Programme in Leadership for Change. Aline is originally from Germany, but it is not her first year in Tampere – during her Bachelor's studies, Aline was an exchange student in the University of Tampere. Today, in addition to her LFC studies, Aline is busy in her role as an Event Coordinator at the ESN FINT, International Exchange Erasmus Student Network, which organizes interesting events for both international and Finnish students.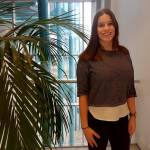 Please, tell about yourself.
– My name is Aline Mayr. I come from the southern part of Germany. I have been studying in Constance, right at the Swiss border, where I got my Bachelor's Degree. I have been studying Political Science and Public Administration, so this Master's Programme fits me pretty good! I'm now studying Public Administration and CBIR (Cross-Border International Relations).
Have you been living in Finland before starting your Master's studies at the University of Tampere?
– I have been living here before. I have done my exchange studies during my Bachelor's studies here in the University of Tampere. That's how I heard about the programme and that's why I applied!
Could you tell more about yourself? What are your personal interests or hobbies, what are you especially passionate about?
– My biggest hobby is definitely basketball. I love that. Here I have been very active in ESN, International Exchange Erasmus Student Network (read more about ESN and ESN FINT). I'm the Event Coordinator. I try to organize all the events for the exchange students, as I was an exchange student myself. So now I'm trying to give back a little bit.
– ESN is an Erasmus Student Network. We have many sections here in Finland – 17, if to be precise! We also have sections all over Europe. We try to coordinate events for international students and try to integrate them a little bit to the society. For example, in the beginning of November we had a cottage weekend. So we went with 20 international students to a cottage and showed how Finnish life is! Of course we also had Finns with us. We try to connect Finns and international students here in Tampere – that's why we are called ESN FINT, Finnish and Internationals in Tampere. We have been going to ice hockey games, done brewery visits… We always organize events during the orientation week. We also give all the students free sim cards, so they can use them. We have international sitsit, for example – that's some Finnish culture for the international students.
Can you please tell more how did you find about the Master's Degree Programme in Leadership for Change?
– I was looking for a Master's Degree Programme somewhere. I didn't want to study in Germany again, but wanted to come to the Nordic countries. I thought that ok, I have been studying in the University of Tampere before, so maybe I can take a look. And then I saw the new master's programme and got super excited! Then I applied to it, as it is perfect for me: to study Public Administration, which I have studied before, and now I'm also doing the CBIR programme, so I can study also International Relations, which I also studied before. It was just perfect and I wanted to come back here. And Tampere is a beautiful city, I loved it.
Why did you choose to study in the programme?
– Because the programme connects three tracks: Administrative Studies, Business and Political Science.. It also sounds really nice – Leadership for Change. It sounds like it is really sustainable, something for the future that can have an impact on our society. It is really international – you don't need to work in Finland or Germany, but you can work wherever you want. That's why I wanted to study in the LFC programme.
In your opinion, what makes the programme relevant today?
– Because it connects so many fields. Today you can't be an expert in one field – you need to have a basic knowledge of almost everything to really act professionally. Here you have different theories and you can always adapt them to the problem that you are facing. No public organization today can work like "Yes, we get money from the state and then we just use it". Instead, you have to connect with the private sector, third sector…
How would you describe University of Tampere? What do you think about studying here?
– I think that that there's a really flat hierarchy at the University of Tampere. It is great for every student who really wants to make an impact on the university. It is so easy: you can talk to every professor, you can go to everybody and just start talking to them without having the feeling that oh, he is a professor or a doctor. You just address people with their first name and that's ok. That's very nice. Also the atmosphere is really nice. Everything is modern, there are nice places everywhere where you can sit down, relax – especially in the library! There are many cafeterias here, so you always have meeting points. It is super nice to study here, the atmosphere is very international. There are many international students here and everyone speaks English. It makes it so easy for the international students to come here. You don't have to know Finnish, although you should learn it.
What do you think about Tampere? What are your favorite things to do here?
– You should definitely go to Pyynikki and try the munkki. That's the most important thing to do in Tampere! I think that Näsinneula is also very nice – just go up and see the town, the forests… Go also to the nature. Of course, the city center is very nice, but the surrounding nature is so stunningly beautiful for everybody. Get a car and drive around, and you'll find a nice forest with a nice lake where nobody is disturbing you. That's the beauty of it: it's not one specific place. Kintulampi has a very nice cottage, where we usually go to. The cottage is owned by the City of Tampere and associations can use it. It is really, really beautiful there. There is a lake, a sauna, the cottage… I like this place. We were there in the beginning of November with four group leaders and 20 Erasmus students. Going into the forest, chopping wood, heating the sauna… A real sauna with wood and fire, not an electric sauna.
– One of the nice cafes in the city is Pyymäen oma. And Kaffila is very nice. And the cat cafe, where you can cuddle cats. That's nice! Harald restaurant is interesting for the international students. It is a chain, but it's still interesting. You can wear Viking hats, eat reindeer and moose… All that stuff that you want to do when you are an international student and think of Finland! You want to do all the stereotypes, and in Harald you can find a lot of those things. There are many nice cafes and restaurants in Tampere.
Which track did you choose and why did you choose that?
– I'm studying Governance for Sustainable Change. I chose it because I already studied Public Administration, and I thought it would be nice to study it further and to get further knowledge, to see how it works in Finland compared to Germany… Germany is really bureaucratic, and Finland is more innovative, trying a lot of stuff. More citizen-oriented, I would say. I think there are lots of differences… It has been very interesting to compare this and see what is really deeply rooted into the society that you cannot change, and what you can change. Especially in Germany. I would like to work in Germany and try to improve it a little bit. I think that Finland is a Nordic country with a lot of welfare state, the government is involved a lot in many things. It could be a great role model for Germany. It's good to see where all came from, how it evolved. And then you can change things.
What do you wish to get from your studies?
– A lot of knowledge about different fields and different approaches regarding how you can theoretically handle things. It is good to know the theories behind: what are the problems that could occur, the advantages of different approaches. I would like to gain that from my studies.
Coming from Germany, have you noticed familiar elements in Finnish culture and practices?
– As I'm European, I would say that there are many things familiar. You greet each other all the time, you say thank you, be polite, but not overwhelmingly polite. All the rules and laws are really familiar to me, because it is more or less European culture. The food is not too different from German cuisine, maybe there's more fish in the Finnish cuisine.
Considering your practical experience of working with international students in Finland, what would be your survival tips for the new students, who move to Tampere? And what would you say to the students, thinking of applying to the MDP in Leadership for Change?
– You should not expect to have a too relaxed life – you have to work here. Studying is not just fun. And it is ongoing. In many other universities they have exams only in the end of the semester, but here it is a process. You should be aware of that. Then of course you have to integrate into the society: not to be overwhelmingly friendly, but just be relaxed. Go with the flow, party with your friends… Give them time, especially Finns, to get to know you – then it will be easy to make friends, and those friends will stay friends for life. During winter times, take a lot of vitamin D pills! You will need that. Read also the Moomin books: you'll have to check out the Moomin museum here in Tampere, and if you have no idea about the Moomin books…
Find the ESN FINT groups on Facebook: ESN FINT and ESN FINT 2017/2018