During her Bachelor's studies, Yesselin did Erasmus exchange studies in Finland. That's when she realized she wanted to continue to Master's studies. "The title, Leadership for Change, caught my attention. I had never heard anything like that and I became very curious", she says.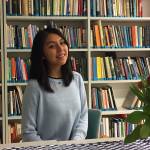 Who are you? What is your educational background?
My name is Yesselin Hermano. I come from Milan, Italy, which I'm very proud of. I'm Italian, but my parents are from the Philippines. I have sort of a double background that has influenced my decision to come to study in this Master's Programme. In high school, I studied languages and I have been in contact with a variety of cultural backgrounds: France, England, South Korea, Italy, everywhere in the world! I just love it. I did Political Science and International Relations for my Bachelor in the Universita Cattolica del Sacro Cuore, which was founded by monks and is one of the oldest universities in Italy. My thesis was about the influence of colonialism in the Philippines. I'm very interested in history.
What are your hobbies and personal interests?
First, I love travelling. I have visited most of the European countries and Asia, Philippines, of course, America… Last year I went to Finland: I was first in Finland as an Erasmus student, and after that exchange period I have come very often to Finland. Then I was in Switzerland, my relatives live there, Denmark… Last year was pretty full of studies, which is why I was travelling a little less than usually.
I also really love cooking! My best dish is pasta carbonara. I love to try different recipes from other countries. Sushi, Italian, Philippine cuisine… I can cook delicious Asian soups. Now I'm trying to learn some Finnish dishes, how to cook fish, like salmon, for example. From Italian cuisine, I like to cook pasta with different sauces. Recently I made pasta sorrentina, which originates from South of Italy. Also I can cook pizza and tiramisu.
You mentioned that you have experience of studying in Finland during your Bachelor's studies.
Yes, I studied as an Erasmus student in Joensuu during the second year of my Bachelor's studies. I went there to study sociology at the University of Eastern Finland. I stayed there only for one semester, but it was memorable. I think it was a life-changing point for me. Before that, I didn't want to proceed with my studies, just wanted to find a job. But after Joensuu my mind changed and I decided that I want to proceed with my career in the academic field and proceed with a Master's degree here in Finland. I learned so much from how they teach… Finnish education is so much better than in Italy, and I feel that I can learn much more in this context rather than in the traditional way of studying in Italy.
How does studying in Finland differ from studying in Italy?
In my specialization I had exams every four months – and all the exams were basically during the same month. It was difficult, as you had to read and memorize so much. It made my desire to study for knowledge decrease. I just felt obliged to study and do the exams. But here in Finland I feel that when I study, I'm not just studying, but I'm really learning something. It is like active learning as you write essays, summaries, learning diaries… You are not being asked just to tell about a particular theory, what does the author say, but you are asked "What do you think about this theory? Do you think it can be applied in the modern society? Do you have any examples?". I think it is a really good way to apply what you have studied instead of just telling what the theory says. In Italy, the grades are based on how much you memorize. In Italy, when I studied law, I just memorized everything and got the highest grade. But later, when I was asked how to apply this law in real life, I couldn't remember anymore. The teachers in Finland are almost like friends to us. There is no vertical hierarchy where you just need to listen to the teacher. Here you can talk with the teachers, have a coffee with them and discuss your studies. The relationship between the teacher and the student is totally different.
How did you find out about the Master's Degree Programme in Leadership for Change?
I was searching for Master's programmes in Politics. It is my background, and I wanted to increase my knowledge in this field. And so I found out that Tampere would be one of the best places for that! Tampere was the best option for me, as I prefer staying in a bit smaller city, closer to the nature. So I searched for the Master's degree programmes in the University of Tampere, found Leadership for Change, and decided that yes, I want to study here! The title, Leadership for Change, caught my attention. I had never heard anything like that and I became very curious. I'm also very interested in sustainable development and I believe that it is not only necessary to know politics to work in this field, but you really need to know other fields as well. For example, you need to have management skills when you are doing a project. Political science alone won't necessarily give you the knowledge on how to create an effective project from practical and technical perspective. I think that Business track, for example, can give you these skills. I was also interested in 'Change' in the programme's name. It gave an impression that this Master's degree programme would give me good knowledge about current issues: they are very complex, everything is changing… And you need to understand what are these changes and what are the causes of these changes from a leadership perspective. Then you can make good decisions concerning this.
In your opinion, what makes Leadership for Change master's programme relevant today?
We have so many issues today, climate change, refugees, creditability of politicians, populism, human rights issues… We live in a modern society, but why do we still have these problems! And why do they arise now and not before? What are the causes of this? I believe that this Master's programme provides me with good perspectives about how to see those changes.
What do you think about studying in the University of Tampere?
It's fantastic! The environment is special, which can be seen in just how the spaces are made – they are focused on your creativity, activities… For example there is this space called Oasis – and I have never seen a place like this before! It's literally a space where you just chill out and take a nap. It's a place to take a break from your lectures. It's a really nice place to chill with your friends without going to a pub or a bar to spend money on things! I also like the canteens here. The price is very affordable for the students. It might be expensive to live in the city, but the university is very affordable for the students. I also like very much the university's library. The library has a lot of academic books. In Italy, for example, we need to buy our books to follow a lecture. Here you can just borrow the book for two weeks and you don't need to spend 50 euro on a book that you won't open again after six months! There are also many events happening at the university, many associations. For example, I'm member of Iltakoulu and I have participated at so many events throughout the year. There is a really nice student environment here in Tampere.
What about the city of Tampere?
I really love Särkänniemi, the amusement park! I also really love to go everywhere by bike. It takes me about 10 minutes to get from my apartment to the university. Considering climate change, it is a sustainable way of getting to the university. I also really like when it snows and there's snow everywhere. I also like to go to the lake. I live in Rauhaniemi, which is very close to the lake. I go there to see the sunset or just to have a walk, to be in contact with the nature… Even though Tampere is quite a big city, you can ride your bike for just 5 minutes and you can get into the middle of the nature! That's one of the best parts of living here.
Have you found any favourite cafes or bars in Tampere?
I have been to O'Connels, which is an Irish bar next to the train station. It's very nice, I like the Irish atmosphere there. I also like a pub called Mallashovi, it's next to Finlayson. It is full of games, board games… It's also very affordable for the students.
I like that there are many sushi restaurants in Tampere where you can eat for a fixed price. It's really nice that there are many sushi buffets, because I love sushi, but as a student you can't always afford it. Also the skyscraper, Torni, is really nice! Its "sky bar" Moro is a bit overpriced, but it's great if you want to see the view.
You are studying in the track 'Politics in Wider Europe'. Why did you choose this track?
As I did my Bachelor's degree in Politics, I had more chances to get accepted in Politics! As I studied Politics and International Relations for my Bachelor's degree, I thought Politics in Wider Europe would be more about international, rather than national, level.
What do you wish to get from your studies in the Master's Degree Programme in Leadership for Change?
More knowledge, skills… Currently I'm improving a lot my academic writing skills and I'm really grateful for that. During my Bachelor's studies, I didn't have that much of experience in writing. I'm good at speaking, as all my exams were oral. That's why in the beginning I found academic writing a bit challenging, but now I'm better – now I can write a learning diary of two pages in 30 minutes! I also hope that this master's programme will boost my career. I would like to work in an embassy or a consulate and I hope that this Master's programme can provide me with tools to work in these organizations, institutions. I also want to write a really good thesis about sustainable development! I'm very interested in this and I really want deeper insights into 'wicked' problems concerning this topic.