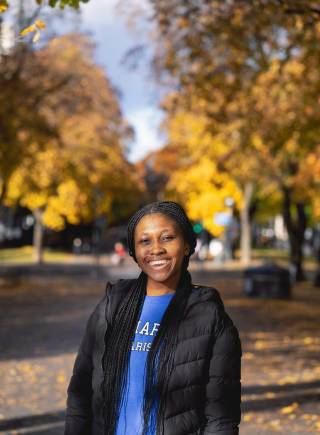 Hello! My name is Naa Ashiorkor Nortey. I came all the way to Tampere from Ghana to pursue my master's in Computing Science, Data Science. Here is the story of how I chose to come and study at Tampere University.
Why did I choose Tampere University?
"Education is the most powerful weapon which you can use to change the world."
― Nelson Mandela.
This quote summarizes all the reasons why I chose Tampere University. I believe in education
and it can be used to change the world. Tampere University is more than capable of providing me with education as a powerful weapon so that I can change the world.
I am so excited to be at Tampere University and so far all that I have seen is beyond what I expected. I look forward to the days ahead with so much vigor, eagerness to learn and make a difference.
I will share some of the reasons why I chose Tampere University. I chose Tampere University because it is multidisciplinary. I wanted to do my masters in a university where I would be exposed to a lot of internationally recognized fields. Exposure is so key to me because I believe it influences us and enriches our experiences. As a Ghanaian who is yet to explore all of the continents, being exposed to so many fields would help my mindset, innovation and creativity. It would open me up to the world at large. Additionally, I chose Tampere University because it emphasizes multidisciplinary research and a lot of investment is made in that regard. One of the strong areas of research is technology. This is such a big deal to me because I am studying in the area of technology. It made a huge difference in my decision to choose Tampere University because I love research so I know that Tampere University would help me build my research skills. I really love that the missions of their research includes fostering a just and participatory society, promoting the health and welfare of people at all ages, developing safe living and working environments that are resource efficient, and ensuring socially responsible digitalization and transformation of work. This is a major contribution to making the world a better place.
Lastly, I chose Tampere University because there are opportunities to continue studying at
Tampere University as a doctoral student after the masters. This got me very excited when I found out about it. This would make the transition to doctoral studies a smooth one if I decide to pursue that.
I am glad I chose Tampere University. I look forward to what it has to offer me and what I also have to offer. I know my education here will be wonderful and I will have an unforgettable experience.
You can learn more about Naa Ahiorkor Nortey's story here