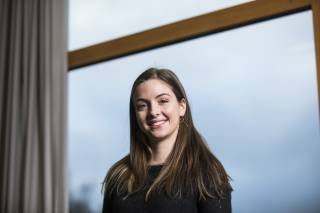 Hi, I am Elia! I came to Tampere in August of 2020 to pursue my master's degree in Global and Transnational Sociology! Here is the story of how I chose to come and study at Tampere University. 
Why choose Tampere University? 
This is the eternal question that a ton of students are asking themselves when it is time to apply and choose a higher education degree. So, to answer, allow me to start with my little personal story. When  it was time to apply for master's studies, I thought that I wanted to experience something else, and get more opportunities by studying in another country. During my gap year after my bachelors, I  applied to a bunch of programs in the Nordics and was accepted to all of them. So why did I choose Tampere? It was a tough choice, as I didn't expect to have the opportunity to choose. I was a bit lost and eventually chose Tampere for the unique study program – I study in the Social Science Research program, in the Global and Transnational Sociology track-, and for the fact that studying in Finland would be the most unique experience and change of scene (also… I love skating and Finland has an  amazing winter sports scene!). But frankly speaking, at that time, I didn't know exactly what to expect from Tampere and the university and I totally discovered Tampere and Finland when I arrived, as I had never been in Finland before. Now that I have lived here for 2 years already, I am in a good spot to help you make the right choice and tell you all about why I think Tampere is a great place to study and I made the right choice.
So, what is Tampere like? 
The geography of Tampere itself makes it a paradise of nature, forest, and lakes. The city is  surrounded by two big lakes, linked by the rapids of Tammerkoski in the city center. They have been used by the industry of weaving in Tampere since the 19th century. What is left is beautifully  preserved brick buildings in the city center, which is what gave the nickname of Tampere of the 'Manchester of the north'. I personally love the architecture and especially love the reflection of the  building lights in the water. As for nature, you won't be disappointed here! Beautiful forests and lakes are accessible from anywhere in the city, and outdoors activities are a must during winter and  basically free! Did you know that Tampere is the Sauna capital of the world? Meaning that there are  some excellent public saunas everywhere included the oldest still working one! What more is needed? Maybe auroras? Well, I have seen some amazing Auroras in Tampere, so even that is  possible here. Another thing is the cost of living, that is considerably lower than the more populated capital city,  that is only a short train ride away, making Tampere very well connected to the rest of Finland by  train.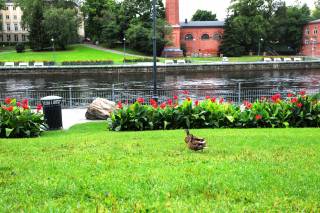 What about the university?  
I found the university to be an amazing vibrant community. Student events are happening all the
time. Student traditions are still well alive, and Tampere is the host of some of the biggest student  celebrations in Finland: Vappu is big here, the Hämmenkadun appro happens every fall, numerous  sitsits happen throughout the year. They all participate to make the study experience unique and get  a bit of rest from academics and have a lot of fun. There are also a lot of clubs and associations in all  campuses, so there is no shortage of ways to getting involved in the university community and make
a lot of connections.
Finland is known to have a very high quality higher-education, and it is felt in every step of the  academic journey at Tampere University. The campus is very well equipped, numerous services are available to students and everything is made to make student comfortable in their studies. My master's program has a fairly small intake, which makes teachers very available and reachable. I also appreciate the fact that in my program, we are very linked to current research and able to have very interesting academic discussions about up-to-date scholarship. Additionally, I also love the fact that the curriculum is flexible timewise and content-wise. A wide array of electives is available, which enriches the program to a great extent, which for me coming from a rigid higher education system is a huge bonus. Even after two years of living here, I still have a lot to discover. It goes to show that Tampere will never get boring! If you are still hesitating whether to apply, you can now be assured that you will  have a great time in Tampere.
You can learn more about Elia's story here