The Galaxi application also has games and personalising elements e.g. children can customize their own 'Kamu' character that adventures around the app with the user.
YLE let us now that the application as it is now has not really been tested on the target group so all the insights we could gather would be valuable. They have plans to revamp the UI and content and in the test wanted to know what is worth keeping and improving on.
In our group of five we started planning the test. Our challenge was the application's vast target group. 7-year-old child has different needs and problems than a 13-year-old might have. This is apparent in the app's content as well – how to cater to such a large range of ages?
In the end, we decided to invite four children from the beginning, middle and the end of the target group. Luckily we had connections to a local primary school and we got a group of 12 children from the desired ages to participate in the test.
For testing day we had prepared and rehearsed a script, so the results would be coherent. We had vigorously prepared to face the children – kids as users are completely different to adults. Their attention span might be shorter, they do not pay that much attention to functionality and usability that we are there to test. We had never facilitated user tests for kids so all of us were nervous to see if we could pull it off.
We ran two test sessions at the same time, in one room one of us was the facilitator and other took notes. We also filmed the test situations for later inspection. In the test we asked the kids to familiarise themselves with the app and also had some tasks and interview questions for them.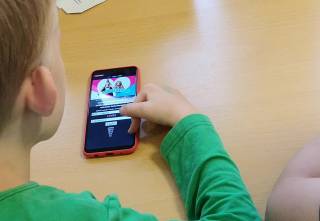 Everything went better than we could have imagined! The children were energetic and excited. They listened to us and followed the test accordingly. The children gave us great insights and results. As a thank-you we gave them some Galaxi stickers and pop-sockets.
We were able to do all the test in one day. Few days later we met up to gather all the notes of one age group in one mind map, and out of the three we started picking out elements that popped out more than once. On all of the notions and insights we gathered the most important points of the test results.
In the final report we included our hypothesis and goals, and wrote extensively of the results. In the end we included some improvement suggestions that we justified with the children's test results.
We delivered the report to YLE and they were pleased! Some of us might continue on with the software development with an internship next spring.
The project was done by: Noora Nenonen, Anna Lucander, Tiina Heikka, Annika Andersson & Petra Sirola
Text and photos by Noora Nenonen, 2019
Blog post editing by CF 2020