After many Covid-19 tests and 10 days in a quarantine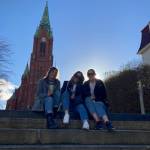 hotel I was finally able to start my exchange period at The Grieg Academy in Bergen. There were a lot of other exchange students starting the spring semester with me, including over 20 Finnish exchange students from different faculties. At the Grieg Academy there were two other music exchange students (both had started their exchange year already in the autumn). I fell in love with Bergen the moment I entered the city. It was just amazingly beautiful and the atmosphere was warm and welcoming . We started doing hikes to the mountains right after the semester started and it became a hobby for me for the whole exchange period.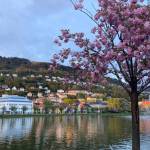 My studies were mostly at the campus but some lessons were held online. My normal study week included practicing (my instrument), flute lessons, an accompaniment lesson, chamber music, a contemporary music lecture, orchestral studies, Norwegian language course lessons and  Zoom lessons to Finland held by my home university. I also attended to a folk music intensive week. It was so much fun and also very interesting! Compared to Finland people took studying and exams more seriously. The Norwegian school system was similar to the Finnish one apart from some minor differences.
In my spare time I was hanging out and exploring the city with my school friends and other exchange students. I am very grateful that I met so many amazing people during my time in Bergen.
I was jogging a lot in the amazing nature of Bergen and hiking to the mountains often as well. The Covid-19 situation was mostly under control in Bergen and the restrictions were fair. We traveled a lot during the spring. We visited for example Myrkdalen, Folgefonna, Stavanger and the Lofoten Islands.
I am sure I am going back to Norway at some point!
<3 Lotta