It's been a little while since I came back to Finland, but I still long to be back in Oslo. When I took the bus towards the airport at the end of summer 2016, I had absolutely no idea what kind of an adventure I would have in Norway.
I arrived in Oslo about a week before the start of my studies. I did this because I wanted to spend the week just indulging in the more touristy things, aka visiting land marks and shopping. Walking around the city was a good way to get a little more familiar with the surrounding area and the place that I would be spending the following year in. At first the city seemed huge but as I got to know it a little more, I was surprised how cozy it felt after a while. Pretty much everything was within a walking distance, which was a huge perk.
Once my 3D-graphics -studies started at Westerdals School of Arts, Communication and Technology, I was bombarded by deadlines and tasks that were challenging to say the least. One course I was interested in was unfortunately entirely in Norwegian. I told my teacher I had no issue having to translate things on my own, if I could just enroll myself. He not only enrolled me, but he actually managed to switch the course language for me, including the lectures and all study material. This just shows how hospitable Norwegians can be! Out of +40 students, the language of an entire 4 month course was changed because of one foreigner. Talk about being lucky!
I also befriended people in my class and I was able to relax and wind down with them after each school day and during weekends.  We enjoyed just hanging out by watching movies and playing games, but we also took walks on top of Grefsenkollen, which is a hill (almost a mountain) overseeing Oslo. I recommend anyone who goes to Oslo to check it out, the pictures do not do it justice!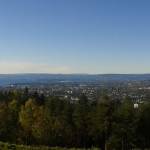 I spent the first half a year living right in the city center. The school was just a few minutes of walking away and I could get pretty much anywhere in the matter of 15 minutes. This was nice, but unfortunately the noise was quite bad at times, especially during weekends. This is to be expected of course, living in the center of a capital city and all. I was, however, relieved to move to a new apartment in Ullevål at the start of 2017. I had to take a tram to get to school each day, but the environment was a lot more quiet, which was huge for me.
After a few months of staying in Oslo, I was comfortable calling it my home. The language barrier was hardly ever an issue and most people were extremely helpful and friendly towards me. The year I spent abroad was definitely one of the best years of my entire life!