I am also one of those who had to interrupt their exchange studies due to the current uncertainty. I still got to spend a lovely one and a half months in Budapest, Hungary.
I studied in the Moholy-Nagy University of Art and Design. They had just finished building and renovating the campus in late 2019, so it was sparkling new and had a fascinatingly sterile feel to it. The facilities were amazing, they had a studio for everything: ceramics, metal-working, wood-working, textile, printing… It was the first time I saw such a big campus and studying there made me feel like an actual university student.
I went to MOME to study ceramic design, so I spent most of my time in the ceramic studio spaces. I also took some life model sculpting classes. My classmates and professors were very accommodating and nice to me, perhaps because I was the only exchange student on those courses. Most of them spoke English, but my courses were held in Hungarian and the professor explained things to me in English afterwards. I really enjoyed studying at MOME and I miss the campus. My courses changed into online courses which I continued (and finished) after returning to Finland.
Studying in Budapest did not differ much from studying in Tampere. I had no problems adapting to the culture. I took a course to learn the basics of Hungarian at MOME and I also learned some things beforehand, so it made things even more easy. I am always interested in learning new languages and Hungarian was most definitely interesting.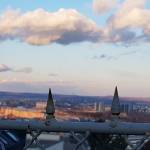 As for free time, I spent most of it with my dear newfound Erasmus friends (and a few Hungarians too!!). We went to see tourist spots and thriftshopped to the max. Most often we would gather in Budapest's many ruin bars. There was a bar called Klub Vittula, which ended up being our most common hangout. I always had a great conversation starter when I met new people there…
There was always something to do in Budapest. Our campus had lots of activities too, like movie nights and free yoga classes. The price of food in restaurants was very cheap and for a vegetarian there was many places to choose from. The public transport was easy, and the city was beautiful. The cherry blossoms were blooming in March, right before I left.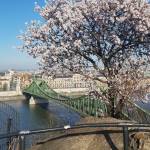 One weekend we traveled to lake Balaton, the biggest lake in Hungary.
I am honestly still sad and gutted that my exchange plans went awry and I had to leave, but life goes on. I am really hoping to have another chance to meet all the cool people again and to just sit and chill at a ruin bar. Maybe someday!