Many greetings from Rome – the eternal city where every road leads to. I've had the amazing chance to spend my year studying music at one of the most famous conservatoires of the world; Conservatorio di musica Santa Cecilia di Roma. It's been utterly an educational experience and I've learned so much about myself, the italian culture and some useful common coping skills of life.
The idea of coming here felt quite good, because it had been a dream of mine for a long time and I had studied the language earlier in life and knew it already pretty well. I had also travelled to Italy quite many times, so I knew what to expect. Or so I thought. Very quickly it turned out that arranging your life in Italy is very different to being a tourist in this paradise of food, wine and historical monuments. As a tourist you can embrace the relaxed attitude and feel free, but as a resident and a student it really hits you that NOTHING works. It takes a lot of patience to accept that everything takes time and nothing is clear. When school starts, such things as a ready study plan or a calendar don't exist. But whatever… This is how it rolls here and there's nothing else you can do about it but try and embrace the culture and make the most of it.
But to better things: when I really got to studying, it was great. The level of the education is so high, my singing teacher has been amazingly good and my correpetitor as well. I've gotten to study vocal chamber music, scene work, classical piano and even took a couple of choir classes. I've also managed quite well in my final exams. It's so nice to know that whatever comes on your way, you can always find a solution. You get the feeling that your wings actually do carry. You start to feel strong and independent, which I think is one of the main goals of a student exchange.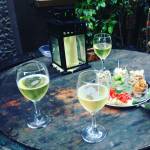 My journey has also taken me to Venice, Bologna, Padova, Nemi, Naples and many other exciting places. (Exploring your grounds is the best part of living abroad.) I've listened to amazing concerts, seen some of the nightlife, eaten divine food (and lots of it!!) and had the best coffee ever.
And let's not forget the most important part…
All the friends I've met. Old and new ones. Amazing people.
Sending lots of love,
Katarina