Cheers from Istanbul it is January but sky is blue and white even though temperature is around +3. This is an amazing city and after all these months I have still so much to see. I am so happy to tell you about my life in Istanbul and to give a sneak peek to the travels that can be easily done from Istanbul.
Istanbul
Hagia Sophia, Sultanahmet, Phosphorus…. And the list goes on and on. If you are going to see everything here you will not have enough time for school! I thought that when you live six months you have time to study and explore a massive city thoroughly but I am afraid that I was wrong! In everyday life I love our neighbourhoods Friday Bazaar. Fresh fruits and vegetables with very cheap price and salesmen shouting something that I can barely understand.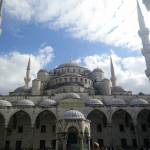 And of course the night life. There is something for everyone on both sides (European and Asian) of Phosphorus. I have preferred bars of Kadiköy on the peaceful Asian side. The clubs of city centre Taksim are not that much my piece of cake but Ritim roof is exception in this. A small cosy piece of rooftop and the few stars you can see above you when the club music plays. I am still a bit bitter that I did not manage to see when they light the bar desk on fire while staff is dancing on it.
Travels
Cappadocia, Ephesus and Pamukkale trips organised by ESN Marmara and scuba diving trips to Marmaris and Kas together with scuba diving club Müsas. Also a small weekend trip to Athens. Looking at the pictures feels unreal and I will caress these memories for my whole life.
School
Istanbul is the city of cats and this is also very visible in our school. Looking at cats chasing each other while having a cup of coffee in one of the many cafés inside the relatively green school area is something that I will miss while having coffee at Campusravita. Environmental engineering studies are here highly focused on water treatment, water transportation etc., it is hard work if you take all the same courses as locals but by choosing some technical elective and elective course you will also have some time to "live Istanbul".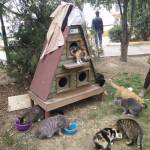 I hope that my diary has given you a bit brighter picture of Turkey than what you read from media. Despite of the terrible things that have happened life in here goes on. Living here in general might be a bit out of Finnish peoples comfort zone but the amazing city and lovely people make it absolutely worth it.