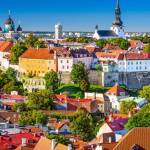 My studies in Tallinn have been an insightful experience into a different kind of education culture and to a top 3% technical university. My goal in question is to take advantage of the course offerings available for BA students on environmental economics and a plethora of law studies.  The courses have been far more difficult than anticipated, so it has definitely been a fit challenge and it has taught me a lot about study ethics.
Due to the nature of my exchange, I spent my spare time mostly at the academic hostel. Otherwise, since I'm not into partying, I prefer walks around the iconic, historical and beautiful old town and other places of Estonian cultural heritage. Obviously, there are the non-party related activities at the hostel with other exchange students, especially my Italian roommate Gaetano.
The studying culture is different from Finland, more formal and strict in practice. The teachers are just as approachable as in Finland and do not need to be addressed any more formally, but the in-school processes involve a lot of bureaucracy and the teachers themselves seem to have much less "power", since most things – even the smallest exceptions – must be negotiated with the dean of the faculty.
Above is a picture of the old town from an aerial view!