Goðan dag frá Íslandi – Good day from iceland..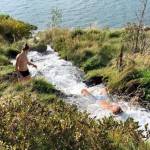 What can I say about Iceland and where I live? Its unbelieveable. Iceland seems to be that place on everybodies bucket list where you HAVE to go.. And so you should. This place is a thing of beauty, a gem of a place where I have been privileged enough to visit, let alone live for 5 months. I have loved my experience so far that much that I made the decision to stay and do another semester over here and do my free choice credits and potentially internship.
Coming here has reignited my dream which I thought was impossible. At the age of 28 its hard to start playing 'professional football' as its the end of a footballing career for many, but for me I tried out for two teams, one in the top league here, and one in the league below. For the upcoming season, I will be on a paid contract and I am waiting to hear back from the other team, so who knows! Either way, without this Erasmus I would not have had that chance in Finland, especially with the smaller salary over there!
The view outside my house is literally this. Living on a hill provides us with these views 24 hours a day. And its perfect.
The people I have met have been amazing, I have made so many friends, partied, studied, deep talk, disagreements, debates. Everything. Some stand out people, two Spanish fellers, 2 Finns, one who lives in helsinki, Graduated from TAMK in 2019, is friends with Marita Tuomala's son and somebody who I worked with and also studied in TAMK. A small small world. I am having the best experience, And would recommend this place to everybody. Natural waterfalls, Mountains, warm waterfalls, Fjords, jellyfish, whales, stunning scenery, natural baths, volcanoes and so much more.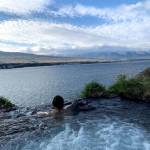 Of course, everything cannot always be great. Its so expensive, but who cares. Erasmus Grants and student loans are there for you to get the most out of your student experience and create memories that you will not be able to create when you get into a full time job. And that is exactly what I am doing. No regrets!
Akureyri, the place I live. The northern city, 10000 people only. Wouldn't change it for the world. From the hustle and bustle of London, to the Tampere Mayhem with all of the works going on, this is a nice breather just before I turn 30
.
Then we have the northern lights, immediately above my student apartment in the picture. AMAZING.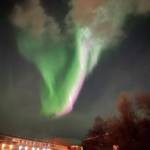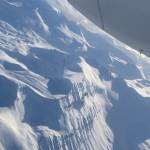 And finally, on the 30 minute flight to Reykjavic, this was as we took off. This mountain range is a 10 minute drive from me. Beautiful.