Hi everyone!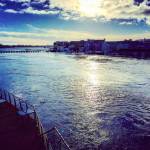 I am half way through my Erasmus time here in Athlone Ireland. The time has gone so fast and almost time for Easter break of two weeks! The studies here in Ireland have gone smoothly and learned so much etc. about Irish politics, economy and history. The education system is very much alike in Finland, except few differences. I am really enjoying the HR studies especially. The teacher is strict and demands a lot more from us students than other teachers here. We also have some projects for her that we need to return at the end of April. We also have project in marketing, in which we are suppose to design an ad for some Irish product that we start to import to Finland! I am really looking forward to that, due to in that we can exploit our visual eye and imagination. I prefer doing more projects than reading just to the exams, but the exams are going to be within two months so that is a bit terrifying!
At this point we have travelled many times to Dublin (which is an hour and a half away from here), Galway, Cliffs of Moher, Kilkenny, Ennis here in Ireland and also Scotland few weeks ago. We have seen lots of green (especially on St. Patrick's Day), sheep, castles and beautiful landscape. The plan is still to go to maybe Cork, Belfast and some few-day trip to Morocco or Madrid.
I also started my internship in the early March. I'm doing it as distant job for a finnish company and while I go for the easter break in Finland, can work then as well.
I would recommend Ireland to all at least visit for a few days, the landscapes are amazing, people are nice and helpful and Dublin is definitely one of the most vibrant cities I've ever been to!