Greetings from Wiener Neustadt! I have now spent almost 4 months in Austria and the time has flown by. It is quite sad to think that this experience will soon be over.
I study business administration at the University of Applied Sciences Wiener Neustadt. I have now finished most of my courses, but during the exchange I normally had classes two or three days per week. Sometimes there were classes from 9 in the morning up until 8 in the evening but having some days entirely off during the week was quite nice. We had a lot of work to do also outside the classes so between travelling and sitting in classes you had always something to do. I have noticed that here the teachers focus more on the fact that they want us to learn more specific details about to subject where as in Finland I think the teachers want us to be able to apply the learned knowledge to different situations.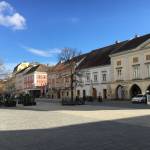 I live just a 5-minute walk away from the university in a student dormitory. Since all of the exchangers live in the same floor, all 25 of us live right next to each other. This has been really fun since you always have someone to hang out with and it has been easy to get to know everyone. My roommate is from Uruguay and it has been an interesting experience to live with someone who is from a totally different culture.
During my free time I have travelled a lot with the other exchangers. We have gone to Italy, Slovenia and Czech Republic. We have also done trips inside Austria. Going to Slovenia and making trips to see the Austrian nature with its beautiful mountains have been my favorites.
When I am not travelling I usually just have a normal daily routine with some studying, going to the gym and hanging out with the other exchangers. Our dormitory is in the middle of an industrial area and for example on Sundays there are no busses to the city center, so we try to come up with something to do at the dorms. Maybe watch a movie or play cards together. The best thing during the exchange has definitely been all the people I've met. They have made this experience unforgettable.
– Alisa