I spent one semester on The Hague University of Applied Sciences studying The European Studies. I really enjoyed my time at THUAS and I'm really glad I got a chance to go regardless of Covid.
One of the beautiful canals in The Hague
I lived in a student housing with three flatmates all around the world. For me it was a really good choice to get a shared apartment and my flatmates were really nice. I learned a lot about different cultures by living with other international people. Also, the location of our apartment was perfect for students, since it was a five-minute walk away from the campus. I found my accommodation in The Hague trough a student housing company called Duwo. There is a shortage of apartments in The Netherlands, but I didn´t have any problems with finding an accommodation since I started to look for a flat well in advance.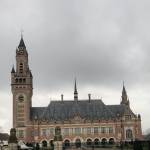 The Peace Palace
I think the teaching methods and studying at THUAS didn´t differ much from TAMK. The biggest difference for me was that the semester here lasts until the end of January, so it is a bit longer than in Finland. Because of Covid, we had a lot of online teaching, but I also had some classes at the campus. However, the Covid situation worsened and in the end of December the campus closed and a lot of other restrictions were launched. At first I felt a little upset but afterall, I'm happy that I got to live even few months "normal" life in The Netherlands. I also travelled outside the Netherlands a couple of times, which was really nice and travelling in the Europe is so easy by train or bus.
With my friends we also explored the country a lot, and there are so much beautiful cities in The Netherlands. We used to take a train to another city and spend a day there walking around and doing sightseeing. I rented a bike from a local company called Swapfiets, which is a company that rents bikes for students for an affordable monthly fee. There are more bikes than inhabitants in The Netherlands and I would strongly recommend getting a bike for everyone who is going to study there. Biking around is a wonderful way to spend a day with friends and get to know the city more.
Sunset at the Scheveningen beach
I think that The Hague is a really nice city to go to do the exchange, there is an active and vivid student life, and the beach is a lovely place to hang out with friends.