Ciao tutti!
Greeting from Torino, Italy!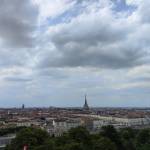 View from Monte dei Cappuccini panoramic viewpoint, Torino
My exchange period started at a weird time in the world, as COVID-19 was and still is changing many things. Nevertheless, the experience has been rich and totally worth it! I want to write this blog post not only as an account of my shenanigans but also as a sort of quick guide to exchange, studies and life in Italy (or at least in Torino) so prepare for a long read (or just look at the photos, that's fine too).
Arriving to Torino was an experience itself with armed police ushering passengers to fill in COVID self-declaration forms and instructing where to go and what to do, all in Italian of course. Big tip #1: LEARN ITALIAN AS MUCH AS YOU CAN BEFORE YOU START YOUR EXCHANGE! Trust me, it will make your life so much easier.
I arrived quite a lot earlier than I would have had to, mainly because the university website is a mess and information is really hard to find. Big tip #2: get your registration rolling as early as possible. It takes a lot of time and multiple messages to get all your needed information, so the earlier you start the better off you are. And be patient, Italians tend to have a more vague sense of urgency than Finnish people and they do not respond well to aggressive, threatening or accusative tone. Best way to get things done in Italy is to put on a warm smile, remember your  manners and use humor.
Before I arrived I tried to get as many things done as possible. I found myself an apartment from AirBnB, which I recommend if you like to live alone and have some money saved up for your exchange (which I recommend doing anyways for reasons explained later in this post). If you want to save money get a room in a shared flat, which are fairly easy to find, either on ESN official FB groups for your exchange destination and period, on whatsapp groups (see the ESN FB groups for more info) or on the local online marketplace www.subito.it (be warned there are scammers out there, so make sure to verify the place before paying a dime). If you look for apartments on subito.it search in the category of "Immobili – appartamenti – in affito" and if you're looking for a furnished apartment look for the key word "arredato". '
Torino is a remarkable Italian big city as it has many parks and green areas in and around the city. It is said to be one of the one greenest cities in Italy!
Nice areas in Torino are:
Lingotto – very calm and has excellent connections to city center with the metro, trams and busses. Also close to the business school campuses.
San Salvario – Close to city center, tends to be more expensive but has everything you need very nearby.
Cit Torino and crocetta – Again close to the city center and the Politecnico campus, nice restaurants (cheaper than San Salvario)
Vanchiglia – Excellent choice if you're mainly going to study at the Luigi Einaudi main campus. This area is easily accessible and as many areas in Torino it is very close to nature!
There aren't many areas I have felt unsafe in Torino but I would avoid Barriera Milano, especially during late hours as the area suffers from narcotics trade and petty criminals. During daytime it is ok, but honestly I wouldn't want to live there (just my personal experience).
Italian phone number has come in handy when registering for some local apps or services (for example Satispay, an app you can pay with and transfer money, it's widely accepted in smaller shops, comes handy often). With a local number you don't have to worry about using up your fast data as you can get an adequate data plan for just 10€ a month. If you want an Italian phone number (not necessary, you can manage very well with a foreign number, especially EU numbers as the roaming is fee of charge) you'll need a tax code aka CODICE FISCALE.
Tessera Codice Fiscale (tax number card)
The codice fiscale is not mandatory but as it is free and can come in handy I recommend to apply for it, as soon as you can. You can either spend a whole day in a local tax office waiting to submit your application or then you can apply for the codice fiscale and the card at the Italian embassy (they will even mail the card to you in Italy if you choose so). It cost only a couple of stamps and a few minutes. Oh and if you're a smoker, you need the codice fiscale card to buy cigarettes from vending machines. Codice fiscale is also needed for the monthly subscription to public transport (Bip card).
Arriving to Torino during COVID was interesting, especially since I was one of the first exchange students to arrive for the semester. I spent almost two weeks without meeting almost anyone as restrictions did not allow for gatherings and events. But luckily the weather was good and Torino is full of wonders you can discover just by walking. One of the biggest parks in Torino, Parco Valentino stretches along the river Po on both banks from fairly south all the way to city center and includes a medieval castle, botanical garden, fountains and much more to see. And in general Torino is an easy city to navigate and discover on foot, I walked at least 10km every day for over a week, trying to familiarize myself with my new home town. If and when museums are open, I recommend getting the Abbonamento dei Musei, a museum card that costs abt 30 euros /year and allows you to visit all the museums in Torino without admission fees. Notable museums include the Egyptian museum (one of the most important and extensive Egyptian collections in the world outside of Egypt), National Cinema museum in the Mole Antonelliana, a landmark and symbol of the city, Royal Palace with many different museums in it, Lavazza coffee museum and many many more.
Museo Nazionale di Risorgimento, Piazza Carlo Alberto, Torino
Life in Italy has a very different pace than life in Finland. I had to learn this the hard way. If you are used to late lunches around 14.00-16.00, you are in for some frustration and disbelief as it is almost impossible to find a restaurant that is open at that time. Same goes for most businesses. Small shops, restaurants, offices and other establishments close their doors for couple of hours for lunch, starting around 13.00 until around 16.00, depending on the place. So keep this in mind when you're planning your daily errands.
Free time in Torino… I have a very skewed experience of this due to the pandemic. For most of my time here going out with friends usually meant hanging out in Parco Valentino (picture below), enjoying refreshments and trying to get home before the curfew. Now as the restrictions have been loosened I have exploited the opportunity to travel as much as I can to places close and to places further. For this I highly recommend saving as much money as you can, since Italy is full of wonderful places to visit! I'm telling to save money, not because travelling here is expensive (quite the opposite in my opinion), but because the more you have buffer in your budget the more places you can visit, especially if the pandemic is not an issue when you arrive.
Networking with other exchange students, Italian flatmates, tinder matches, your next door neighbor or virtually anyone is an opportunity to start an adventure. Italians especially are very welcoming and open people, you might get invited to a family dinner or a weekend trip just after couple of weeks of knowing someone. Travelling with other exchange students is a lot of fun, it saves costs and you get to enjoy accommodations you couldn't necessarily afford by yourself. And the train network in Italy is delightfully functional, extensive and affordable! With 20-40 euros from Torino you can reach Venezia, Cinque Terre, Roma, Firenze and a huge number of other destinations in just a few hours. It would be crazy not to take advantage of such an opportunity!
Then the less interesting part: studying. Courses are mostly held in Italian but especially in the School of Management there are some degrees completely in English. I have had all of my classes online, so I haven't even seen the inside of my campus which makes me inadequate to tell about regular student life in Italy. Courses are very "old school" compared to Finnish pedagogy, meaning that they are mainly just lectures with powerpoint slides and very little group work. Exams for me have been all written, but it is normally more common to have oral exams. There's almost no obligation to attend lectures (at least for my online courses) as they are recorded. The timetables for courses are published quite late, at least in my degree of Business and Management, so again have patience. Many courses have two implementations called streams, which can be confusing so confirm with your professor whether you need to take both or just one as policies vary from course to course. Different streams can have very different structures and methods, so the upside is that you can choose the one that fits your style of learning the best. The university of Torino provides an intensive Italian course of 5 credits to everyone and you should absolutely attend as you'll need all the Italian skills you can get to make life easier.
Once you've been accepted as an exchange student, you'll get a "Buddy" assigned to you, a tutor if you will, who helps you with all school related issues as well as getting your day to day life rolling. You share the buddy with other exchange students so it will be an excellent chance to network even before you arrive in Italy.
Prices in Italy are generally lower than in Finland, especially food and drinks but Torino is on the more expensive end as is typical for Northern Italy. The culture is also slightly more Central European which eases the cultural shock a bit. Pro tip for saving money in food is to buy your veggies and fruits at local market places, mercatos, from local small vendors on a daily basis. Vegetables and fruits don't generally last as long in fridge as they do in Finland and the supermarket stuff has lower quality than than mercatos, so if you buy fresh produce for more than two days at a time you'll probably end up throwing them away. If you don't like to cook and want to eat cheap but relatively good quality food, I recommend taking advantage of the school canteens, mensas. For 1,8€ you get a hefty portion of good and tasty food (pizza has good price/quality ratio as they are made on demand on the spot).
I am already dreading the day of my return to Finland as I feel I haven't experienced enough in this city and in this country. COVID exchange has deprived me of many experiences but on the other hand it has allowed the whole exchange community to weld together in an exceptional way as everyone has been struggling with the same issue. Life in Italy is sweet once you allow yourself to flow within it. Getting past annoyances of bureaucracy, disorganization,  different and sometimes illogical practices and the language barrier (use of hand gestures helps more than you'd think) takes some time but the sooner you relax, embrace and accept your new environment and acknowledge that here things work out if you just let them, you'll be enjoying yourself in no time.
P.s. If you want to hear more about my experiences and get some tips and tricks under your belt, do not hesitate to contact me at wille.holopainen@tuni.fi