Paris is a lively! There is so much to do, only problem is the limited student budget. The town itself has many places to see and visit. I walked a lot once I arrived and saw many nice neighbourhoods and parks that are not advertised, which is also good cause they were quiet and neat. Best things about the city are buildings, parks, atmosphere and language since I like French. My least favourite things are: how disorganized gorgery stores are, some parts of town where it's not safe to walk alone and absolutely everything has to be done by mail.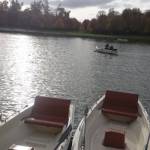 The school building is really nice and has  a great location (in my neighbourhood.) On the other hand it doesn't provide group work places, there is only ONE computer room for students and many of those computers are constantly not in use and also there is no proper food in the cantine. Only paninis, muffinis etc. Good things are the level of teaching in many classes and the class rooms are not bad. The international office is quite helpful but the school's management is really bad. Schedules change all the time and during the first three weeks there was no way of knowing whether I actually had class or not.
Besides school I've been getting to know the city and hosting visitors from home. Versailles and Disneyland are for example really nice places to visit. There are also cheap bus routes to neighbouring countries and cities. I e.g. went to Amsterdam and Marseille.
The mood changed a bit after the attacks but the increased officers and soldiers are making everyone feel better.