I wake up in the morning because the sun is shining into my room.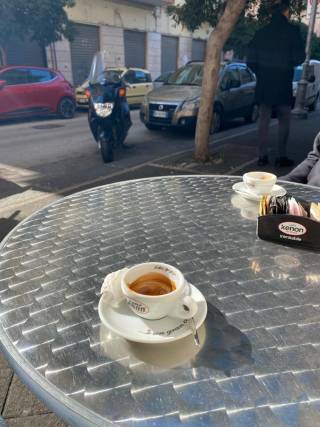 I go sit on my balcony for a second to enjoy the light. I hear that my flatmate is also awake so we decide to go together downstairs of our building to the bar to get an espresso and cornetto for breakfast.
After breakfast, we'll go swimming at this beautiful beach, but to get there we need to take a bus which we end up waiting for half an hour, but it's definitely worth it. A bunch of locals have gathered on the beach also. Some of them are playing cards, some gossiping with their friends, and some cuddling with their partner. 
Later on, I'll study together with my Erasmus friends since the exams are getting closer. We go always to the same bar (cafe) to study because it's one of the only places in town where it's possible to study because it's not common in Italy to study in a cafeteria. The waitress remembers how I'm drinking my coffee which is one of the benefits of a smaller city.
After studying we'll walk on the lungomare, by the ocean. It feels like everyone has come to have a walk and enjoy the sunset. We'll sit down for a minute to look at the ocean and be quiet.
We head to the dinner after 9 pm and it lasts for a couple of hours, there's no rush. The service is very slow, but I'm getting used to it already. After dinner, we still grab some gelato before heading home. It's simple but I like my life here.