Greetings from Madrid! I have enjoyed my studies here since I am a Business Administration student and here it is possible to study business related to tourism which interests me a lot. Also, I think Spain has a lot to offer in studies in tourism since here the tourism industry is one of the world's biggest.
In my spare time here, I have traveled as much as possible around Spain. On previous trips, before coming here I have organized my excursions, but here in Spain, I have used travel agencies who have mainly targeted their excursions at university students, which is another reason why it has been nice to go on these trips since meeting other fellow students.
Otherwise, I have spent my free time getting to know Madrid, studying Spanish, meeting new people, meeting friends from Uni, and participating in Erasmus Student Network events such as group dinners, museum tours, excursions, and of course bar nights.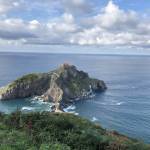 At the Uni here in Spain, things seem to go more with the flow, and people don't take things as seriously in everyday life as in Finland. Going with the flow is reflected in not planning things or stressing about things too much. It's enjoyable, but also frustrating at times. Also, at Uni there are a lot of tasks and assignments, but it seems that the quantity compensates for the quality compared to Finnish Uni tasks. Maybe one of the weirdest things here at Uni for me is that they are offering wine and beer with school meals.
Altogether I am enjoying my time here in Madrid and wish I could stay a bit longer. Maybe I look my next internship here.
Saludos,
Jan