The exchange is coming to an end and It's time to pack my bags, visit school and meet my new friends for the last times and a perfect time to look back at what I have done with my time in here Salerno! I'm studying international business in Università degli studi di Salerno.  I live close to Salerno in an area called Torrione. My apartment is located 20 minutes walking distance from Salerno center and my school is around 45 minute buss ride away from my home.  There are two campuses for my University Baronissi and Fisciano. I only visited the Fisciano campus because I had no classes or activities in the other campus. When visiting the campus every student needs to have their own QR-code in order to enter school premises and of course  greenpass. The Fisciano campus is huge and I did take around 20 minutes walking around before finding the right classes and offices the first time visiting. I came to my exchange alone and I have not met any Finnish students here yet, but I have met different people from different cultures and that has been very interesting and fun!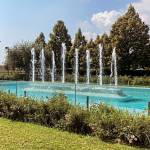 In Salerno there are many different things you can do while visiting. During the summer you can go to the beach, take hikes, do shopping and visit Amalfi coast which is the most known area near Salerno. There are water busses and day-trips to different locations available but they unfortunately stop operating in October. The shopping and food is probably the most known features about Italy and Salerno is not disappointing in either of them. There are many different restaurant available and many shops in the center of Salerno but keep in mind that almost every place closes for few hours during the day! This is something that I was confused by during the first weeks here. There are also few shopping malls only bus ride away. Salerno is a smaller city so I decided to travel few places in Italy and reaching them was very easy because of good train connections that Salerno has. The views in Salerno are beautiful as there is the sea and it is almost surrounded by mountains. The views from the mountains are definitely worth hiking for!
Overall Salerno is very nice and beautiful city with lots of activities. In my opinion the best time to visit here is during summer when it's warm and the water busses are working. Also, during summer the city seems to be more alive. Also, you should be prepared with little knowledge of Italian language since here in Salerno the English is not so strong. The food is amazing as well as the wine and the best thing after the day is to eat pizza with friends in the beautiful restaurants of Salerno!