¡Hola chicas y chicos!
I've spent the last five months here in Vic, in the heart of Catalonia, 60 kms away from Barcelona. I absolutely love the culture, food, weather and the place itself. I've met wonderful people all around the world and made friends and travel buddies for a lifetime. I've adjusted myself to a local state of mind: Mañana – tranquilo.. If in a hurry: take your time. If tired: take a siesta. If stressed out: worry about it later.
Football, tapas and partying are real big things here. I've grown to love them all. There is no better feeling than when you're surrounded by 99 000 fellow FCB fans in Camp Nou an
d your team wins. People eat dinner around 8-12 pm and party from 1-7 am. Barcelona never sleeps, but I do – sometimes in a train back home and sometimes at the airport waiting a flight to the next destination.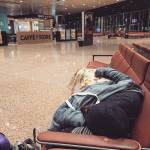 During my stay I travelled a lot in Spain: Ibiza, Valencia, Girona, Sitges; in Portugal: Porto & Lisbon and in the US: Washington D.C. & New York. We also rented a car with my Dutch squad and drove to Southern France: Cannes & Montpellier. Since the weather is so much better here and my tanning progress is not quite where I wanted it to be, I'm staying until July and I will travel to Bilbao & Lloret de Mar and to Marrakesh in Morocco.
I've also done studying worth of 30 credits, improved my Spanish and learned a little bit the local language, Catalan. I cannot express how much I've loved my time here. If you are reading these postcards with some doubts about whether or not to participate in exchange study program abroad, here is my advice: GO FOR IT.
Terkkuja kotiin!
-Jane