I arrived in Dublin to start my Erasmus journey in january. Dublin is Ireland's capital city, located in the east coast with population over half million and over a million in the area of Greater Dublin. City is full of history, culture, pubs, shops and restaurants. You can enjoy street music when you're shopping or go to pub in the evening to enjoy live music and food. You can take a bus, LUAS or Dart to move around Dublin. Irish people are kind and friendly. There are lots of historical buildings, museums and activities to see and do.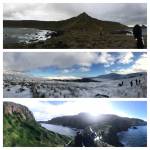 I'm in clinical placement for most of my erasmus time. Morning shift starts later and breaks are half longer than in Finland. I spend every week in a different modality so I got to see lots of things and ways of working. I think Irish people are more laidback what comes to working life. Finnish healthcare system, structure and equipments are more advanced than Irish. There are many things Ireland should learn from Finnish ways of doing things. In Ireland, studying radiography takes 4 years and radiotherapy is 4 years too. Irish radiographers seem to study more image reading but I wouldn't say they're superior to finnish radiographers. Finnish way of doing things, especially in healthcare is more strict. In Ireland, radiographers wear jewelleries and use strong perfumes, image quality is not as good and phone usage during shift is not a weird thing to do. Radiographers role has some differences between these two countries in some modalities but basic principles are the same.
I spend my spare time exploring the city and Ireland. Dublin has so many things to see and do! Museums, cafes, pubs, restaurants, parks, shops, historical sights, monuments… Ireland is a small island which makes seeing places around Ireland easy. Buses and trains are not that expensive. Tourist bus tours are convenient for a day trip to see places that are hard to get via public transportation. During my time in Ireland, I got to know Dublin and Ireland's history as much as I could. I also visited Northern-Ireland (Belfast, Giant's Causeway and Carrick-a-Rede-rope bridge). I visited west coast (Galway, Wild Atlantic Way, Cliffs of Moher) and other places like Kilkenny, Cork, Wicklow mountains. I have gone hiking for some really beautiful places, visited fishing towns, experienced Irish music and dancing and cheered for local sport teams in a hurling match.