I choose Portugal because it was the one and only place where I can do traineeship exchange and have the warm weather. It is "winter" in here now, but I can compare this weather to finnish summer and it's actually warmer than that. My exchange is located to Faro's central hospital. I will be in the hospitals x-ray department for three months and there I will do my practical training. At the hospital I can do conventional x-rays, computed tomography exams, MRI exams and mammography. I have done all kind of shifts, including morning shift from 9am to 3pm, evening shift from 3pm to 9pm or night shift from 9pm to 9am and also combinations of these.
At my spare time i have done a loooooot of school works, I even think that it is way too much school work in addition to the the 3 months of traineeship. Because I want explore and experience as much as possible. Of course at my spare time I have also spent time at the beach or at the terrace, anywhere in the sun. And of course i have done all of the super cool activities like cave tours, water sports, go-karting ect. I have also travelled a lot around the country. Example to Lagos, Portimao, Porto, Lisbon and Sevilla, which is in SPAIN. It takes about 3 hours to go Sevilla from faro and costs only 20€?! So I had to take that opportunity and go explore that city also. The travelling opportunities are amazing, specially because the travelling is super cheap in here. Hotels are also pretty cheap now, because now it is off-season.
If I compere this placement to the placements I have done in finland they are actually pretty same. There is a lot of differences ofcourse, but if you look at the big picture, the differences arent that big. But if you compere the athmosphere to finnish hospital it is so much more different. Here the staff behaves like a huge family, you can feel the love in the air. And in Finland it is no where near to that.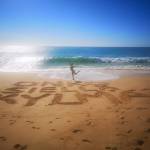 I will defenetly come back to Portugal. I really fell in love with this place!