My erasmus-exchange lasts 3 months. I have 1 month left. I have two courses: one course about Professional and behavioural aspects of patient care in radiography and the other beginners' course of Norwegian. I also do an 8-week practical training in the radiological department.
Even though schoolwork takes a lot of time I still have some free time. My school has a buddy-program which organizes activities. There are both international and Norwegian students joining. I have been going hiking a lot and we'll have a cabin-trip in the end of March. We radiographer students also organized few trips on our own. I'll go to Oslo and some of the others go to Tromsø.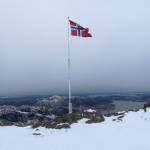 I had many kinds of lectures during the first 3 weeks of the exchange. I also did simulations. I think the lessons were more practical than theoretical and it is a big difference to Finland. I heard from the Norwegian students that this isn't always the case. They probably wanted to create this kind of course for the international students. The exam is a quality improvement project that we will present in the last week of the exchange.
Norwegian classes are with other international students. The classes are a bit too easy for us who have been learning Swedish, but it is always nice to learn a new language. There will be an oral-exam: talk with your partner about a situation in Norwegian. So, no written exams!
My placements are in conventional radiography and in CT, both in private clinic. I noticed many differences to Finland:
Hygiene: They rarely clean up the equipment here at least in conventional in CT they are more hygienic.
Radiation protection: The good image matters more than the radiation dose. Sometimes good and sometimes bad in my opinion.
Clothes: They don't really tell the patient to take of their clothes. Only if it's too thick material or has metal in it.
Positioning: They do many of the examinations in different ways but the result is usually similar to Finland.
The weather has been changing a lot. We had some snow in the beginning but now it is either sunny or raining. It hasn't been raining that much though 🙂