Hello from Vukovar, Croatia!
I'm doing my three month clinical practise here in Vukovar. This is a small and very cozy town situated right near the border of Serbia. Population is around 30 000 on the paper, but the actual number of people is lower. This town has pretty dark history because it was bombed down during the Croatian war in 1991 and some ethnic cleansing was done here by the Serbs during the occupation. You can still see some bullet holes in building walls and one burned down hotel. Nowadays people (especially young people) don't really care if someone is serb or croatian, they just want to move on and aim for the future.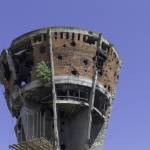 I'm working in a local hospital as a physiotherapist. Me and my classmates are only exchange students here at the moment, so  everyone here is eager to meet and spend time with us. People in the hospital has been very kind to us and always willing to help in whatever we need, whether it's a car trip to local supermarket or getting a car to hire for weekends to tour around. I work in two shifts which differs from Finnish working culture, because in Finland physiotherapists usually works in only one shift.
I'm living in a brand new student dormitory 300 meters away from the hospital and 800 from the local university so the distance to work or university ain't too bad. Other students in the dormitory have been really kind to us and are also willing to help with any problem we face. In spare time we usually hang out with people in the dorm or other people from the university.
All in all this time here has been really enjoyable and I think this gives me tons of good memories to bear with me. And maybe someday I'll return this place and meet the people I call my friends, or maybe someday some of them will visit Finland! You never know.
Best regards, Iiro