Greetings from beatiful Istanbul!
5th week of my practical training in nursing is going on here in Istanbul and I´m in love with the city! You can really feel "the wibe" of the metropolis while walking on the street of the main street Istiklal here on European side or taking the crowded ferry to the more local Asian side.
Some statistics say that there are more than 3 million people walking on Istiklal (in the picture) every day and It´s not hard to believe.. The street is 1,5 km long and connects the Taksim Square (one of the main squares in Istanbul) and Sishane metro and funicular stations to each other.
One of my favourite things to do during spare time is to go to some cafeteria and have a drink, sit on terrace and just watch people going by. And there´s a lot of places for doing this! Turkey is famous for its traditional coffee and specially tea. And people DO drink tea, everywhere, all the time.. We have also explored some night life during the weekends and it feels that this city never sleeps. But otherwise I´ve been living my everyday life here as if I was back home and bought also a 2 month- card to gym near my house just to try to take care of myself while being here. 🙂
One of interesting things in this city is the street cats. They are literally everywhere, from grocery shops to metro station. And people take care of them, so they can actually have a good life here on the streets. A cat in a picture has only three legs, but it doesn´t keep him out of going an enjoying the life..
My internship- hospital is called Florence Nightingale and it´s located quite central on European side. I spent first week in First Aid department and from the second week I´ve been doing the training in Intern Medical Department. In addition to some normal nursing care tasks I´ve had the opportunity to see some surgical operations also! There has been some language problems, because a lot of nurses and patients don´t speak any english. Google Translator has been in a  heavy use some days haha.. So there has been an excellent chance to improve my understanding of non verbal- communication 🙂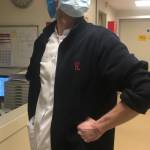 People work a lot more here than in northern countries. Normal weekly hours are approximately 55-60 hours and normal shift lasts 12 hours (night shifts 14 hours..). Working culture feels quite relaxed; it is very important that the atmosphere is good at work specially with these long hours people do here..! I haven´t found that many big differences to Finnish health care system during these weeks, even though obviously there are some. Working routines may vary, but the goal in health care is the same everywhere in the world!