Good evening to all of you as my title says! I've now spent three months in Crete with my classmate and our exchange period is ending this Saturday. This whole experience has been amazing and I haven't yet realized that I really am going home this week…but before I leave I want to share the highlights of my exchange with all of you.
I'm a nursing student and I came to Crete to do three different practical trainings. First one was home care but because of the differences in health care systems between Greece and Finland this training took place in a local nursing home. There we familiarized ourselves with "Namaste Care Programme for people with dementia" and leaded so called Namaste sessions for the elderly patients.
The second practical training took place in orthopedic department of the local University Hospital "Pagni". At first we were really shocked about local hygiene perceptions and the slow work tempo but in the end everything turned out okay.
We did our last training in operation rooms of Pagni. This training was the most exciting one for me and based on this experience I chose to specialize in perioperative care in my studies. We got to observe surgeries from almost every field of medicine and we also explored the work in recovery room.
The highlights of my exchange outside the hospitals are from following moments:
Trip to Spinalong island with other Erasmus exchange students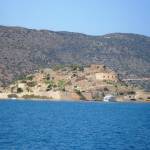 Autumn break when my family came to visit me from Finland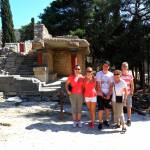 Hiking trip to mountains where I tried rockclimbing for the first time
All those sunny and beautiful days we spent on the beach
Trip to Athens with other exchange students from Heraklion, Hania and Rethymnon
Last week we organized a Finnish evening for the other exchange students because of the Independence day of Finland. We served hard rye bread that had shrimps with mayonnaise on top of them and "Fisu", the popular party drink from Finland. On Sunday we had a pre-Christmas party and the exchange students from Czech had made glogg and ginger biscuits. Tomorrow we are going to Hania and on Thursday we will meet with people from Rethymnon. Friday is our last day here and we will spend it in the University dormitory with our Erasmus family. I am so grateful for this opportunity and hope you all had as amazing exchange experience as me!