I started my practical training in Wellington, New Zealand in June and the training period lasts for 6 months. I am a fourth-year student and I am studying to be a Bachelor of Social Services, so I am planning to graduate this Christmas. My training placement is called Wellington East Girls' College and I am an intern in Supported Learning class.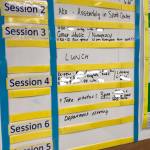 As an intern I am doing the same things as the teacher's aids in the class. I support the students in their studies both in our own classes and also in mainstream classes, such as Future Pathways, Music and Arts. We also have couple of classes for supported students only, such as Life Skills and Colours of Sexuality. In addition, there are different kinds of therapies for the students in our class, for example Speech and Language therapy, Occupational therapy, Music therapy and RDA – Riding for Disabled.
I would not say that being a teacher's aid in our class is a same thing that it would be in mainstream classes. It is really challenging, and I can definitely say that my education in Social Services has been a good help for me. In a class of 15 students with mental disabilities every day is different and you can never know when someone has a meltdown or when you have to act as a referee in a fight.
The working culture here is quite the same but quite different comparing to Finnish working culture. People are much more relaxed about things in general even though the rules do not always seem like that. For example, people might take sick leaves from work more easily (sometimes when they are not even sick) and a 30-minute lunch break might be 5 minutes or one hour, depending how the day is going. Lot of things are also just talked through, and many things people should know are not written down anywhere. This sometimes leads to me going to some events in two minutes warning and people forgetting things.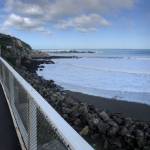 During my spare time I try to relax as much as possible. I also have two holidays during my training period. The first one I spent in South Island. The other holiday I am going to spend in Australia. During weekend I have also made smaller trips to closer towns here in North Island. During mid-summer (mid-winter here) I hiked on a small mountain. I will attach more photos below to show different places.