Or actually, let's just head out to West-Flanders and the city of Kortrijk, where I've been studying for the last 4,5 months on a Social Pedagogical Arts and Creativity Exploration. Studies that have focused… well, I think the name says it quite well – arts from social standpoints.
The studies have contained lots of interesting and eye-opening experiences, such as study visits to different social-artistic organizations, philosophy on arts and education, and art methods. As the end group project, I've been working with a theater company De Figuranten in Menen, just next to French border. The goal has been to create a zine with the topics surrounding LGBQTIA+ community, identity, sexuality, and equality.
Draft of a page from the zine.
Studying has been fairly different from Finland, although it's not fair to compare the studies, having begun them during covid. I've loved the intensity of actually going to the campus, Menen, or somewhere else, almost every day. The courses on philosophy and sustainability aren't something that would be mandatory in our studies in Finland and therefore have filled out the curriculum nicely. Approach to art methods has been different to what I've experienced in Finland (even working with international teachers) and the social-artistic scenery is way ahead of that of Finland. Obviously some difficulties have come up just because a lot of people aren't using their native language and things get lost in translation.
When it comes to spare time, I was lucky enough to practice with a volleyball team in Kortrijk for a short while, with that being my primary sport. Culture surrounding the sport was different from what I'd been used to in Finland and it was nice to experience that. Of course, when you're more close to middle-Europe, traveling is a good option for weekends, as France, Luxembourg, Germany and Nederlands are all near by Belgium. The cities of Belgium are also worth visiting, and the beer is good and cheap.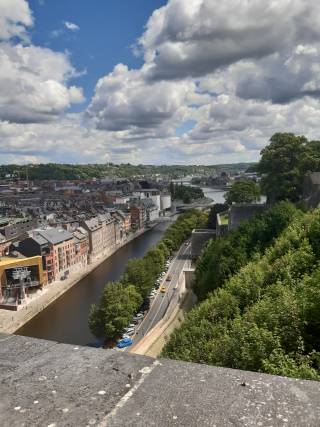 Sights from the citadel of Namur, Belgium.